Two men stabbed in murder bid in Govanhill area Glasgow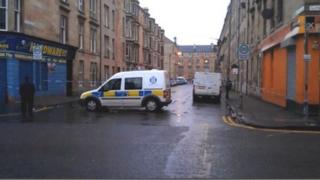 Police are treating an attack on two men, who were stabbed outside a flat in Glasgow, as attempted murder.
Officers were called to the scene in Westmoreland Street, in the Govanhill area, at about 23:00 on Tuesday.
The victims, aged 34 and 35, were taken to the nearby Victoria Infirmary. The 34-year-old was in a serious condition. The other man was said to be stable.
The disturbance is believed to have involved at least four men - two of whom are being sought by police.
Det Insp Alan McAlpine, of Police Scotland, said: "The two injured men had been at a party nearby which appears to have spilled on to the street.
'Bit of a commotion'
"We know that there were at least four men involved in the disturbance - the two in hospital and the suspects."
The first suspect was described as a white male, about 5ft 7in tall and bald. At the time of the attack he was bare chested.
The second suspect was also a white male, about 5ft 5in tall, with dark brown hair. He was wearing a red t-shirt.
Det Insp McAlpine added: "From other witnesses there was a bit of a commotion outside which I am in no doubt that at that time of night people would have heard."
He urged anyone with information to contact police.