Historic homes and tourism on Bute to get £8m boost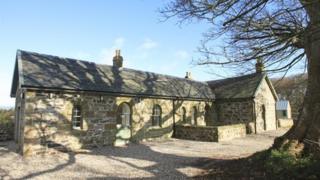 The Mount Stewart Trust have announced a three-year £8m investment in developing historic and unused buildings on the Isle of Bute.
The development will see refurbishment of existing properties plus the construction of homes to rent and holiday accommodation.
Any new properties will be designed to match existing properties to maintain the island's look.
The project could become the largest regeneration on a private estate.
Connie Lovel, chief executive of the Mount Stuart Trust, said: "This is a tremendously exciting initiative by Bute Estate and demonstrates our deep commitment to the social, economic and environmental fabric of the island."
New dwellings included in the development plans will be designed as energy-efficient, environmentally-friendly homes which match the architecture already found on the island.
'Contemporary elements'
Areas on the island which have been identified for redevelopment include Ambrismore, Woodend, Quochag and Lubas Steading.
The project will include the renovation of existing buildings and the creation of hybrid units - combining the renovation of existing buildings with the addition of new contemporary elements. Where these options are unsuitable, new build homes will be developed.
The project will run in conjunction with the estate's Accelerated Refurbishment Programme which upgrades estate-owned properties.
More than £600,000 was spent on the first phase of this programme which was completed in 2012 and a similar sum is to be committed to this second phase.
Ms. Lovel added: "Due to the age and condition of the properties when they return to the estate following lengthy lease periods, there is often a need for significant upgrading and we look forward to making great progress in restoring as many of these properties as possible."
The regeneration proposals will be showcased at a public exhibition at Mount Stuart.