Pakistan gas explosion baby to come to Scotland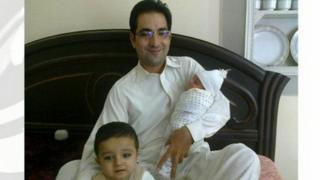 A baby who was badly burned in a gas explosion in Pakistan is to be brought to Scotland for life-saving treatment.
Mohammad Sudais was just under two months old when an explosion ripped through the apartment block he was living in with his family in Peshawar last December.
The child's uncle, who lives in Glasgow, has applied for a visa so his nephew can get treatment in Scotland.
Scottish government officials have now made moves to help speed up the visa.
Life-saving treatment
The accident claimed the lives of his father Mohammad Ameen, 30, mother Sumaira, 28, and 13-month-old brother Abdul Haseeb.
Doctors in Pakistan say they can now do no more for the baby, and have recommended that he be treated at Glasgow Royal Infirmary, in the city where his uncle Mohammad Asif lives.
For the last few weeks his uncle has been fundraising and lobbying authorities to get him brought here. More than £10,000 was contributed to the fund in just over three days.
Mohammad Asif said: "I don't know how to thank the Scottish people for responding so very quickly and efficiently."
He has now applied for a visa to bring his nephew to Scotland for NHS treatment.
Glasgow charity Positive Action in Housing said the boy could be in Glasgow within 24 hours after his passport and guardianship papers are readied.
Director Robina Qureshi said: "Unless the doctors tell us different, we don't think a commercial flight is safe, possible or practical.
"If the Scottish government brings the child from Pakistan by air ambulance or by a medical, or even military, flight with medical facilities, then there is nothing to prevent the child being in Glasgow's Yorkhill Hospital by this time tomorrow."
A Scottish government spokeswoman said: "We are still speaking to all the relevant parties, including the British High Commission in Islamabad to ensure that baby Mohammad is brought to Scotland for treatment.
"Our clinicians are still in discussion with clinicians in Pakistan as our first priority is to ensure that baby Mohammad's clinical needs are fully assessed and that he gets the treatment that is of most benefit for him.
"The outcome of these discussions will also inform the timing of his travel and the most appropriate method of safe transport as well as any clinical support that may be needed during his transfer.
"We would hope to resolve this as soon as we can following receipt of further clinical advice."