Cruachan hydro power station output 'could double'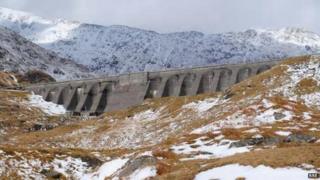 The output of the Cruachan hydro electric power station in Argyll could be more than doubled under plans revealed by Scottish Power.
The company is to carry out a two-year feasibility study before deciding whether to go ahead with the project.
Its rival, SSE, has already announced plans for the Coire Glas hydro electricity scheme in Lochaber.
The Scottish government has said the country could be "on the verge of a new generation of hydro power".
This could "rival the revolution in the glens" which saw electricity taken to the Highlands in the 1950s, it added.
The 440MW power station at Cruachan, near Oban, is one of only four pump storage hydro plants in the UK and plays a key role in balancing the country's electricity system.
The expansion project could see it generate 1,040MW.
Consumer demand
When there is a surplus of electricity, water is pumped from Loch Awe to a reservoir on the mountainside.
Then, when demand is high, the water is released, generating electricity by driving turbines in the power station below.
The turbines and control room are housed in a giant cavern carved from the rock of Ben Cruachan itself.
More than doubling the power station's output would require years of work and cost hundreds of millions of pounds.
Matching electricity generation with consumer demand is expected to become more challenging due to the increased reliance on intermittent sources of renewable energy, primarily wind farms.
Keith Anderson, Scottish Power's chief corporate officer said: "Pump storage is still the most efficient and effective way of storing energy, and then using it at times of high demand.
"That's why it works very, very well alongside wind farms."
Scottish Power's Spanish parent company, Iberdrola, recently completed a seven-year project to double the capacity of the Cortes La Muela pumped storage hydro plant near Valencia to 1,500MW.
Speaking during a visit to La Muela, the Scottish First Minister, Alex Salmond, said: "The Scottish government recognises the potential for future development at Cruachan and other similar proposals for hydro-electric storage, to contribute to a balanced mix of energy generation across Scotland in the years ahead."
Proposals for an expansion of pump storage facilities have already been included in the draft National Planning Framework.
But the first minister pledged any application from Scottish Power to upgrade Cruachan would be "considered on its own merits".
During a news conference at La Muela, the chairman of Iberdrola, Ignacio Galan, rejected suggestions that Scottish independence would threaten any plans to invest in Cruachan.
And he declined to comment on the referendum campaign.
Mr Galan said: "I will not interfere in respect of the decision the British will take on that one.
"We will serve British citizens, Scottish citizens, and Welsh citizens because that is our duty.
"We have to provide electricity in an economical and environmental manner. That is our goal."