Taskforce meets at new Scottish crime-fighting centre in Gartcosh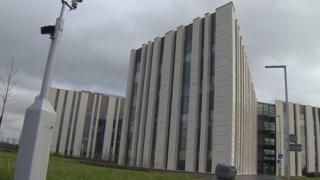 A new Scottish crime-fighting centre of excellence is now operational.
Located at Gartcosh in Lanarkshire, the Scottish Crime Campus (SCC) will spearhead Scotland's approach to tackling serious organised crime and terrorism.
The £75m centre will be staffed by different agencies including the police, forensics, customs and the prosecution service.
To mark the opening, a meeting was held by a new multi-agency task force.
The crime campus is located on the site of a former steelworks at Gartcosh which closed in 1986.
The building runs across on four floors occupying over 22,500 sq m of floor space.
The Scottish Serious Organised Crime Task Force (SSOCTF) includes officers and staff from Police Scotland's specialist crime division, the Crown Office and procurator fiscal service as well as the National Crime Agency, HM Revenue and Customs and Forensic Services.
Justice Secretary Kenny MacAskill chaired the meeting.
He said: "Scotland's justice system is envied across the world, and it is crucial that we give our police, investigators and prosecutors the facilities to maintain this excellent standard.
"The new campus will provide facilities to allow agencies to work in a joined-up way never seen before in Britain."
He added: "From the state-of-the-art forensic laboratory to the specialist database technology, there is no doubt that communities in Scotland will be safer places as a result of this facility and it is great news for the Scottish public.
"Criminals are becoming even more sophisticated in their ways and that is why it is crucial that we continue to stay one step ahead."
Police Scotland Chief Constable Sir Stephen House added: "Serious organised crime seeks to undermine the safety of all of our communities.
"In the first year of Police Scotland we have significantly enhanced our approach to how we target those who engage in this type of insidious activity.
"Through the specialist crime division and local policing, we are becoming increasingly sophisticated and successful at targeting serious organised crime and other threats."
He continued: "It is a major part of our efforts collectively to help keep communities safe through ensuring the best intelligence feeds excellent evidence-gathering which in turns results in operations which puts serious organised criminals out of business."