Pope appoints Fr John Keenan as Bishop of Paisley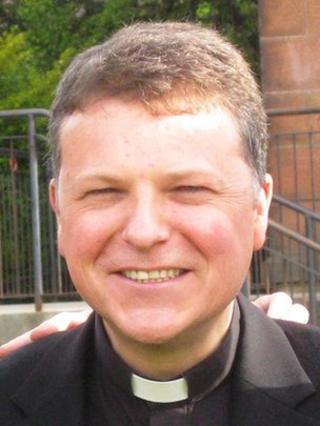 The Roman Catholic chaplain of Glasgow University has been appointed by the Pope as the new Bishop of Paisley.
Father John Keenan, 49, will become Scotland's youngest bishop when he is installed at St Mirin's Cathedral, Paisley, on Wednesday 19 March.
The diocese has been vacant since September 2012, when Bishop Philip Tartaglia became Archbishop of Glasgow.
Father David Boyd has been the administrator of the diocese in the interim.
Bishop-Elect Keenan is currently the parish priest at St Patrick's Church, in the Anderson area of Glasgow, as well as fulfilling chaplaincy duties at Glasgow University.
He said: "While nervous at my appointment, I have been very uplifted at the congratulations and good wishes I have received so far which have given me more confidence.
"Everyone I speak to says Paisley is a wonderful diocese with good priests and people full of faith. I am looking forward to being with my brother priests, many of whom I already know really well, and getting to know the people and the parishes of the diocese. I hope just to settle in and listen a lot.
"At the same time I leave Glasgow with a heavy heart. I have loved my priesthood there from the very beginning and know I have family and many friends who will continue supporting me."
He added: "This is an exciting time in the Church under Pope Francis' lively leadership and I hope to put as much of his vision into my own personal life and ministry as I can. I know many people in Paisley and Glasgow will be praying for me and I thank them very much."
Welcoming the appointment of his successor, Archbishop Tartaglia said Father Keenan had been a "much loved and respected parish priest" and an "inspirational" chaplain at the university.
He added: "His appointment gives me a huge headache in trying to replace him. But, in the Church, when one part of the body is made stronger, the whole body benefits.
"So, in this case, Paisley's delight is Glasgow's joy, and I am certain that Father Keenan will be a fine bishop for Paisley."
Motherwell is now the only Scottish Diocese currently without a bishop.