'Burnt trousers' help catch failed Ayr jeweller robbers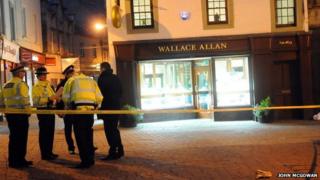 Three men who staged a failed armed robbery and then torched their getaway car were caught after police noticed one of them had burnt trousers.
Steven Douglas, 24, Robert McIndoe and Andrew Paton, both 22, admitted trying to rob Wallace Allan jewellers in Ayr on 4 November last year.
They were caught when police stopped them in a taxi and noticed Douglas's singed tracksuit bottoms.
Sentence on all three was deferred and they were remanded in custody.
The men pleaded guilty to a charge of attempted robbery at the High Court in Glasgow.
The court heard how three female workers were in the jewellery shop when McIndoe and Paton entered at about 12:45.
Shooting threat
CCTV showed the pair were both wearing forensic-style white paper suits.
McIndoe - armed with what appeared to be a handgun - yelled: "If anyone phones the police, we'll shoot you."
Paton struck a display cabinet with an axe - but meantime one of the workers pressed a panic alarm causing smoke to fill the shop.
Seconds after entering, the accused then raced out empty handed into their getaway car driven by Douglas.
They ditched the Ford in a nearby car park before the vehicle was set on fire.
They escaped in a taxi which was later stopped by police who had been alerted to the raid.
Imitation handgun
Prosecutor Shanti Maguire told how as Douglas was detained, officers - aware the Ford had been set alight - spotted his grey tracksuit bottoms were burned.
Officers also discovered a small imitation black handgun and an axe in a holdall.
The paper suits - as well as other items used in the robbery bid - were also found.
It later emerged that McIndoe was caught on CCTV at a Glasgow DIY store buying tape, gloves and the overalls just hours before the raid.
McIndoe, from Dennistoun, Glasgow, and Paton, of Bishopbriggs, East Dunbartonshire, also pleaded guilty to possessing an imitation firearm with intent to rob.
The court was told it was accepted Douglas, also of Dennistoun, did not know the weapon was going to be used.