California kingsnake found in Glasgow's Botanic Gardens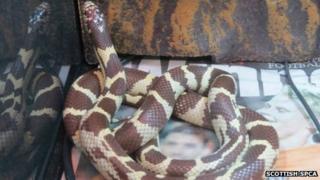 An animal charity is hoping to trace the owner of a snake that was found in Glasgow's Botanic Gardens.
The Scottish SPCA said the two-foot long California kingsnake was discovered in the palm house on Friday.
The reptile has been named Dermot by staff at the charity's Glasgow rescue centre, where it is being cared for.
Assistant manager Katrina Cavanagh said that if Dermot's owner could not be traced he would be placed with a "knowledgeable" new owner.
Drawn to heat
"Snakes need heat to survive so it's not surprising Dermot was keeping warm inside the palm house," she said.
"We can't be sure how he got there but it's possible someone abandoned him, thinking it was a suitable environment. If this was the case it was very irresponsible as well as an offence.
"Snakes are really good escape artists though so there's also a chance Dermot has gone missing from his home nearby and was drawn towards the heat.
"We're asking anyone who recognises Dermot and knows who might have owned him to contact us so we can try to establish how he came to be there."