Criticism over gay-row adoption agency ruling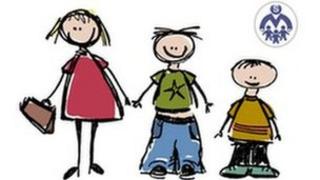 A secular society has criticised a decision allowing a Catholic adoption agency to keep its charitable status.
St Margaret's Children and Family Care Society had originally been told it was to be stripped of its status over its refusal to place children with same-sex couples.
That decision has now been overturned by the Scottish Charity Appeals Panel.
The National Secular Society said the ruling on the Glasgow charity "kicks a hole right through the Equality Act".
Terry Sanderson, the society's president, said: "This ruling makes some highly dubious claims that need to be tested.
"It appears to widen the grounds of which religious groups can discriminate against gay people and make it possible to argue that because an organisation has a religious affiliation - even if the primary purposes of the organisation itself are not religious - it can still qualify for charitable status even if it doesn't comply with the Equality Act."
He added: "In effect charities will be able to use taxpayers' money to discriminate against gay people and perhaps others they don't approve of. This ruling potentially gives religious charities significantly greater exemptions from the law that other charities are bound by, so needs to be challenged."
'Greater exemption'
The Office of the Scottish Charity Regulator (OSCR) looked at the practises of the charity after a complaint from the National Secular Society and in a report last year, found it was operating in breach of the Equality Act 2010.
St Margaret's gave greater priority to prospective adoptive parents who are a couple, Catholic, married for at least two years and who wish to adopt within the framework of a Catholic faith, the report said.
Lower priority was given to people married less than two years, couples in civil partnerships, single people and married couples who do not wish to adopt within the Roman Catholic faith.
The regulator said marriage was not available to same-sex couples and that the charity's policy constituted direct discrimination.
Closure threat
It issued a direction for St Margaret's to amend its procedures, or risk losing its charitable status - a view confirmed in a subsequent review.
But St Margaret's took an appeal to the Scottish Charity Appeals Panel (Scap) which decided in favour of the adoption agency. The decision allows the charity to continue to operate.
A notice on the Scap website said it had "decided in favour of (the) appellant" after a hearing in Edinburgh.
The report on its website said: "The panel considered that in following the direction the appellant would have had a serious difficulty with their members and supporters in the Catholic Church which would ultimately result in its closure.
"This would result in a loss to the community served by the appellant and, when compared with the discrimination complained of the decision, is a disproportionate regulatory measure."