Established jeweller Henderson goes into liquidation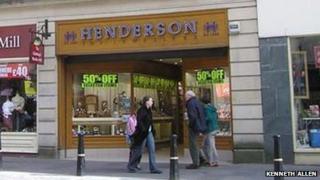 One of Scotland's oldest jewellers has gone into liquidation.
Henderson, which was established in Coatbridge in 1886, had 14 branches throughout the country.
The vast majority of the company's 79 staff were made redundant last week.
Provisional liquidator Brian Milne, from French Duncan, said: "It would seem that Henderson has fallen victim to the challenging trading conditions that the economic downturn has imposed on many retailers over recent years."
He added: "It is particularly regrettable, given Henderson's long history, that it has fallen into liquidation."
Henderson had branches in areas including Glasgow, Edinburgh, Dundee, Kilmarnock, Dunfermline and Hamilton.