Same-sex row adoption agency to keep charity status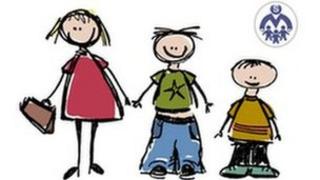 A Glasgow-based adoption Agency run by the Catholic Church in Scotland has won an appeal against a decision to strip it of its charitable status.
St Margaret's Children and Family Care Society had been told by the Scottish Charity regulator it was to lose its status over its refusal to place children with same-sex couples.
This decision had now been overturned by the Scottish Charity Appeals Panel.
The Catholic Church said the agency would continue its work as normal.
St Margaret's was one of several adoption agencies run by the Catholic Church throughout the UK that had tried to resist new equality laws.
The Office of the Scottish Charity Regulator (OSCR) reviewed the practices of the charity in January last year, after a complaint from the National Secular Society and, in a report, found it was breaking the Equality Act 2010.
The report said St Margaret's gave greater priority to prospective adoptive parents who are a couple, Catholic, married for at least two years and who wish to adopt within the framework of a Catholic faith.
It said lower priority was given to those who have been married for less than two years, couples in civil partnerships, single people and married couples who do not wish to adopt within the Catholic faith.
The regulator said marriage was not available to same-sex couples and that the charity's policy constituted direct discrimination.
The OSCR upheld its decision after conducting a review at St Margaret's request.
'Threat lifted'
Following the appeal panel's ruling, a spokesman for St Margaret's, said: "We are delighted and relieved that the threat hanging over us has been lifted. Our only wish is to continue to do the good work for which we have been recognised by the authorities, of placing children in need of families with loving parents."
Archbishop Philip Tartaglia, president of St Margaret's, said: "We are grateful for this wise decision. It means that families who are ready to adopt can look forward to the future with a little more serenity, and children in great need can be placed into loving homes.
"St Margaret's is a small agency which does great work for the wider community and helps transform the lives of some of the most vulnerable children in society. It would have been have been a great pity if it had been forced to close."
St Margaret's is partly funded by the Catholic Church and the trustees of the charity include bishops from dioceses in the west of Scotland.
The agency would not be drawn on the implications same-sex marriage, being legislated for by the Scottish government, would have on its work.