EIS loses Glasgow City Council 'non-teachers' challenge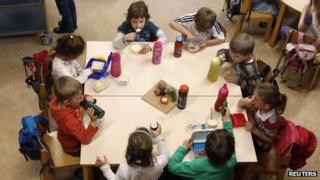 Scotland's largest teaching union has lost a legal bid to keep non-teachers from taking senior jobs in nursery schools and family learning centres.
The Educational Institute of Scotland (EIS) accused Glasgow City Council of trying to undercut nationally agreed pay and conditions.
A judge at the Court of Session in Edinburgh threw out a previous bid to have the policy overturned.
Appeal judges have now backed the earlier ruling.
The controversial policy was put in place in 2012 after some years of consideration and discussion.
The EIS asked for a judicial review, claiming the decision was unlawful.
Regulations change
Appeal judges Lady Paton, sitting with Lady Smith and Lord McGhie heard that circumstances changed in 2003 when regulations dating back to the 1950s began to change.
A report to Glasgow councillors in 2008 said the repeal of the "Schools Code" gave authorities greater flexibility over the deployment of teachers in pre-school education.
The directors of education and social work services were asked to draw up an action plan for some 112 establishments run by the local authority.
The number included nursery schools, nursery classes, family learning centres, day nurseries and early years centres.
Based on their findings, in 2011, education director Maureen McKenna announced an "early years review" saying the aim was to deal with historic anomalies.
Some centres run by social workers had become the responsibility of the council's education department and were delivering the same service as nursery schools.
That summer, Glasgow City Council replaced retiring heads at Pikeman and Bonnybroom establishments with non-teachers.
There was a difference of opinion with the EIS about whether or not they were nursery schools.
Talks continued that year as the local authority began advertising for posts asking for either educational qualifications or qualifications in child care.
Legal argument
But in June 2012 the dispute ended up in court
After Lord Brodie's ruling in their favour, the council began to make non-teacher appointments.
In their appeal the EIS claimed the new policy did not comply with the Teaching Standards (Scotland) Act 2000.
The union said there had been a failure to recognise that a nursery school was a school and subject to a legal regime which did not apply to nurseries.
The council insisted there was no statutory requirement to have a registered teacher heading a nursery school.
Their legal team also argued it was irrelevant what name was used for a centre providing education for the under-fives and it was up to the local authority to decide what was an adequate number of teachers in each centre.
In their written ruling, the appeal judges said they had found nothing to support the contention that the decision made in March 2012 was unlawful.
Following the decision, a council spokeswoman said: "We welcome this sensible decision which will allow us to be able to respond more flexibly to the changing needs of families for early years' education and childcare."
EIS general secretary Larry Flanagan said: "The EIS continues to believe that qualified nursery teachers are an essential part of quality education provision in nursery schools, as indeed does the Scottish government.
"The EIS launched this appeal with the aim of ensuring that all nursery-aged children could have meaningful access to a teacher in their school environment.
"Sadly, this ruling today will place teacher involvement in the education of young children in nurseries under very serious threat."