Plea over cat found in wheelie bin in Glasgow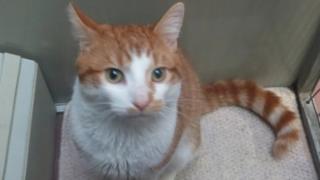 An animal charity is appealing for help in tracing the owner of a cat that was found trapped inside a wheelie bin.
The Scottish SPCA said the cat was found by a passer-by, who heard its cries, on Copland Road, Ibrox, Glasgow, at about 18:00 on Monday.
The male ginger and white cat, dubbed Dusty, was not micro-chipped or wearing a collar.
Rescue officers say it was not known if the animal fell into the bin or was put there deliberately.
He is now being cared for at the charity's animal rescue centre at Cardonald.
Good health
Animal rescue officer Amy Robb said: "Poor Dusty was found inside the wheelie bin with the lid closed.
"Luckily, some people from the homeless hostel heard him meowing, took him out and cared for him until I arrived.
"We do not know whether he was scavenging for food and somehow fell into the bin or whether he was put in there deliberately, maybe as a cruel prank."
Ms Robb added: "Thankfully he was unharmed and in good overall health so we don't think he could have been trapped for long.
"If he has gone missing from home we'd like to reunite him with his owner but if no-one comes forward to claim Dusty we'll find him a loving new home."