Glasgow helicopter crash: Inquiry call over Clutha tragedy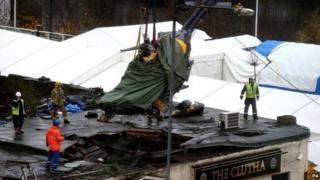 The UK transport secretary is being urged to launch a public inquiry into helicopter safety after a crash at the Clutha bar in Glasgow killed 10 people.
Lawyers for some victims have also asked Patrick McLoughlin to review the laws that exempt helicopters from having to carry black box equipment.
The move comes after Bond Air Services, which operated the police helicopter, began making compensation payments.
It is not yet known what caused the crash on 29 November.
Legal firm Irwin Mitchell announced earlier this month that it had commenced action against Bond Air Services over the crash at the Clutha bar in central Glasgow.
The law firm said there had been at least 20 helicopter accidents in UK airspace, with at least 40 fatalities since 2009.
Safety issue
It has now written to Mr McLoughlin asking for a public inquiry to look into the safety of commercial helicopter flights.
Clive Garner, head of Irwin Mitchell's aviation law team, said: "The tragedy in Glasgow has put a spotlight on the issue of helicopter safety, but the unfortunate truth is that it is just the latest in a string of tragedies and urgent action is now needed to ensure that helicopter safety standards are reviewed and improvements made where necessary.
"Our clients rightly want answers and reassurances that no one else will have to go through the ordeals that they have been through.
"Because of our concerns, we have written to transport ministers in both the UK and Scottish Parliaments demanding that they do what is right in these circumstances and launch a full public inquiry into the safety of helicopters operating within UK airspace with the aim of improving helicopter safety."
More than 100 people were inside the Clutha bar when the Police Scotland helicopter crashed on to the roof at about 22:25 on 29 November.
More than 30 others were taken to hospitals across Glasgow.
The helicopter crew of pilot David Traill, Pc Tony Collins and Pc Kirsty Nelis died in the crash, as well as seven customers in the pub.
They were John McGarrigle, Mark O'Prey, Gary Arthur, Colin Gibson, Robert Jenkins, Samuel McGhee and Joe Cusker.
It has not yet been established what caused the crash, although air accident investigators have said initial evidence ruled out major engine or gearbox failure.
Their initial report also said the helicopter pilot made no mayday call and that no black box data recorder was on board.