East Ayrshire Council to probe 'failings' over mining clear-up costs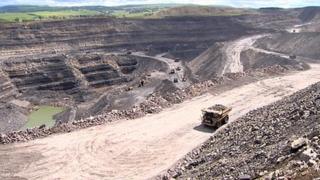 East Ayrshire Council is to investigate major failings in how it handled local mining projects amid a £132m shortfall to restore former opencast sites.
The huge clean-up bill was left behind by the collapse last year of Scottish Coal and another firm, ATH Resources.
An independent review of the council's planning authority role has highlighted widespread failures among officials.
Some individuals may face disciplinary action when the council's investigation concludes by the end of March.
Scottish Coal, which operated opencast mines in a number of areas in central Scotland including Ayrshire, South Lanarkshire and Fife, went into liquidation in April last year.
Another company running opencast mines, ATH Resources, was wound up in May.
Bond shortfalls
The cost of restoring the opencast sites once they were closed was to be paid by restoration bonds from the operators.
Following the collapse of ATH and Scottish Coal, it was discovered that the value of the bonds were significantly short of the clean-up costs.
Last year, East Ayrshire Council said the total notional cost of restoration of 22 mines in the areas was £161m but only £28.6m was set aside in restoration bonds.
Major deficits were also reported in South Lanarkshire (£34m) and Dumfries and Galloway (£15m).
In the immediate aftermath of the mining firms collapse, East Ayrshire Council set up an independent review of its planning process in relation to opencast mines.
A three-man team, led by former Scottish government chief planner Jim Mackinnon, has now delivered a damning report on how East Ayrshire officials handled their statutory duties.
The investigation discovered that an independent study, which examined restoration guarantee bonds for opencast coal mines, had been carried out in 2006.
Although it contained warnings which were passed on to council officials, these were never heeded or acted upon.
The report also found that opencast sites in East Ayrshire "were not visited or inspected on a regular basis" and that "monitoring progress on sites was wholly inadequate".
The review panel described a failure by council officials "to appoint independent assessors" as "completely inexplicable".
'Management failings'
It concluded that there were "significant management and communication failings, particularly within the planning service" and that this statutory role was "not given the priority that was required in relation to the operations of opencast coal operators".
The report goes on to highlight inadequate staff resources "devoted to regulation of the opencast coal industry" and "issues in respect of training and lack of technical mining knowledge among relevant council officers".
The review panel said previous operations of the council's planning department meant it was "difficult, almost impossible, to establish precisely what did or did not happen, with or without planning approval" among opencast operators.
The report said there was a lack of awareness within the senior management of East Ayrshire Council of the environmental damage wreaked by the operators and the financial implications.
It added that "persistent failures" to comply with the terms of planning permissions and legal agreements should have been identified and addressed.
Mr Mackinnon told BBC Scotland that the fallout from the mining firms' collapse, and the subsequent shortfall in clean-up funds, was "as bad as it gets" for East Ayrshire.
"It has left a legacy of environmental dereliction which is probably unrivalled anywhere in Scotland," he said.
'Persistent' failings
Mr Mackinnon said the council had policies in place to deal with potential problems but there were "consistent and persistent" failings.
The council has stated that it has "no absolute statutory or other legal obligation" to meet the £161m shortfall for cleaning up the opencast sites.
Fiona Lees, chief executive of East Ayrshire Council, said: "There is unlikely to be sufficient funding from any and all potential sources to deliver full restoration as envisaged in the original restoration plans and so a flexible alternative approach is required to deliver a reasonable degree of restoration at a substantially reduced cost.
"The council continues to actively engage with the current operators of active sites - landowners, all relevant public agencies and a range of other third parties to promote and deliver acceptable alternative restoration solutions.
"We will engage with our local communities on these proposed schemes on a site by site basis."
The Scottish government said it shared "the concerns of local communities about the long-standing issue" of restoration costs.
A spokeswoman said it had set up the cross-party Scottish Opencast Coal Industry Taskforce to bring together all relevant parties and made good progress on issues such as restoration.