Funding for Scots-led space projects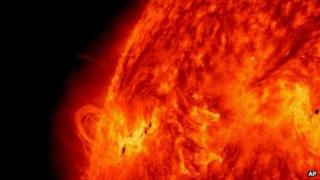 Two Scots-led space research projects have been awarded £3.95m in funding from the European Commission.
Glasgow University's Space Glasgow group is spearheading the work on solar flares and the exploration of Mars.
The funding will allow university academics to further investigate the physics of solar flares.
Others from the school of engineering will build a new type of drill tool to extract and contain samples taken from the surface of Mars.
The project on solar flares is being led by Dr Lyndsay Fletcher and Dr Nicolas Labrosse from the School of Physics and Astronomy.
Difficult drilling
Dr Fletcher said: "This project will allow us to combine ultra-high detail observation of solar flare events with advanced theoretical and computational modelling to shed light on the way a flare's energy is stored, released, and converted into other forms."
The Mars drill tool will be built by a team led by Dr Patrick Harkness and Prof Margaret Lucas.
Dr Harkness said: "We will build a tool that can core-drill a sample and then seal it inside the coring bit itself, so that the bit can serve as a sample return capsule.
"Planetary drilling is difficult because the low gravity makes it difficult to apply the large forces that are normally used to shatter rock on Earth, while the need to preserve the samples means that the rock temperature must be kept close to ambient.
"Once we have the samples, they cannot be returned directly to Earth because of the risk - however remote - that they could contain pathogens dangerous to our planet. They must be sealed inside a container that will only be opened in a secure laboratory."