Weather swamps Glasgow University Commonwealth torchlight plans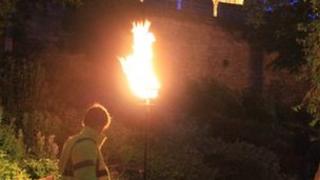 A torchlight procession marking Glasgow's involvement in the Commonwealth Games has been cancelled.
The University of Glasgow's Commonwealth Torchlight Procession was called off because of forecast weather conditions.
It had been due to start at 16:00 on Sunday, taking a route from Glasgow Cathedral through the city centre to the university.
The university said the decision was taken because of "public safety".
A spokesman explained: "We have taken the decision to cancel tonight's Torchlight Procession in the interest of public safety.
"This is really disappointing for everyone working on the event and for the many people who had registered to take part.
"If there is any possibility to reschedule for a future date we will and discussions will take place with Glasgow City Council and Police Scotland tomorrow morning."
The event, six months ahead of the Games opening, had been expected to attract about 1,500 participants.