'No fault' over two prisoner deaths at Barlinnie jail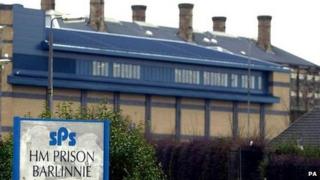 A fatal accident inquiry into the deaths of two men at Glasgow's Barlinnie Prison has found neither could have been "reasonably" prevented.
Stuart Rose, 26, was found dead on 15 April 2010. He was jailed for torching an Islamic Relief shop in Glasgow.
James Bell, 27, was found dead on 13 August 2010, hours after he was remanded in custody.
Sheriff Alayne Swanson said "there were no reasonable precautions whereby the deaths might have been avoided".
In a written judgement, Sheriff Swanson added in relation to Rose: "I cannot determine the impact on him of the phone call which we heard but there can be no doubt that it was significant.
Risk assessments
"His distress at being separated from his wife and her assertion that their relationship was over was evident."
The inquiry was told that Rose collapsed in the dock after being sentenced and was upset when he was taken into custody but he was later assessed as being at "no apparent risk" by a prison officer and nurse when taken to prison.
The following morning, the day of his death, he was assessed by another nurse as being at "no apparent risk".
Bell was also assessed as the same at the prison.
The inquiry heard about paperwork known as a prisoner escort form (PER) that was filled in about each man and detailed risks or concerns about them, and in Rose's case a new admissions form, because he had never been in custody, was also filled out.
'No evidence'
On Bell's PER he was noted as being at risk of suicide or self harm and Rose's new admissions form confirmed he was a suicide or self harm risk.
These forms were not in front of nurses and prison officers who assessed each of them at the prison.
Sheriff Swanson said she rejected that this contributed to the deaths by information not being passed on.
She said: "I heard no evidence on which I could base any criticism of the professionals involved in the risk assessment process.
"The assessments were based on considerable experience and expertise."