Glasgow helicopter crash: Payments to Clutha victims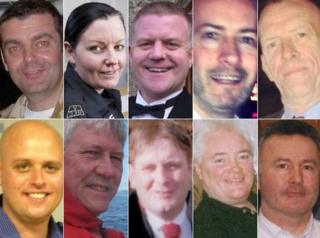 The company that operated the police helicopter which crashed into a Glasgow pub killing 10 people has begun making payments to victims and their families.
Solicitors representing Bond Air Services have accepted the firm is liable for the losses suffered by those killed or injured in the Clutha bar.
The interim payments are intended to cover loss of salary while full compensation is agreed.
It is not yet known what caused the crash on 29 November.
In a statement, Bond Air Services said: "Since the terrible tragedy at the Clutha, we have been working with Glasgow City Council and other parties to see how bereaved families and the local community can best be supported.
"While the causes of the tragedy remain unknown, we confirmed from the outset that we were committed to ensuring proper compensation was paid to all of those who have suffered loss as a result of the accident.
"Most claims should be capable of being settled without delay however, for complex claims which may take longer to resolve, and where appropriate, we will make interim payments without the need for each party to apply to the court."
News that payments were being made was confirmed by Thompsons Solicitors which is representing more than 50 victims.
It has lodged claims under section 76 of the Civil Aviation Act 1982.
This states that where material loss or damage is caused to any person or property on land, by an aircraft while in flight, the owners of that aircraft are strictly liable.
In essence, the Act directs that the aircraft owner shall be treated as having caused the crash and the victims are automatically entitled to compensation without having to prove anything.
'Significant milestone'
Thompsons said the solicitors representing Bond Air Services had accept the firm was governed by section 76 of the Act "and as a result they are liable for the losses suffered by those killed or injured in the Clutha bar".
Hannah Bennett, a lawyer with Thompson's Clutha legal team, said: "The commencement of interim payments from Bond Helicopters to Clutha victims is a very significant milestone and is welcomed.
"Many of our clients are suffering from ongoing physical and psychological symptoms as a result of their involvement in this tragic and life changing event."
She added: "The last thing our clients need right now is concern over financial issues. Securing the payment of interim compensation from Bond will help address these financial concerns while we work towards securing our clients a full award of compensation."
More than 100 people were inside the Clutha bar when the Police Scotland helicopter crashed on to the roof at about 22:25 on 29 November.
More than 30 others were taken to hospitals across Glasgow.
The helicopter crew of pilot David Traill, Pc Tony Collins and Pc Kirsty Nelis died in the crash, as well as seven customers in the pub.
They were John McGarrigle, Mark O'Prey, Gary Arthur, Colin Gibson, Robert Jenkins, Samuel McGhee and Joe Cusker.
It has not yet been established what caused the crash, although air accident investigators have said initial evidence ruled out major engine or gearbox failure.
Their initial report also said the helicopter pilot made no mayday call and that no black box data recorder was on board.