Paul Stewart has jail term cut over Robert McPike death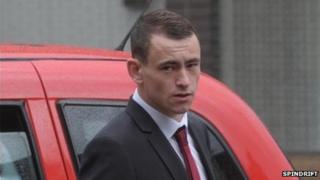 A driver who was described by a judge as a "boy racer" has had his jail term for killing another motorist reduced.
Paul Stewart, 22, overtook a car on a blind bend on the B743 Prestwick to Strathaven road on 11 February 2012.
His Renault Clio hit a van driven by 52-year-old Robert McPike, from Tarbolton, who later died in hospital.
Stewart was jailed for six years after being convicted of causing death by dangerous driving. Appeal judges ruled this was too harsh and cut it to four.
'Devastating harm'
Lord Bracadale, who heard the sentence appeal with Lord Kingarth at the Court of Criminal Appeal in Edinburgh, said they would give full reasons for their decision to reduce the prison term at a later date.
He said: "We are very conscious, in dealing with a case of this kind, that no sentence is capable of undoing the devastating harm which has resulted from the driving of the appellant."
But Lord Bracadale said they considered that the trial judge, Norman Ritchie QC, had fallen into error in applying sentencing guidelines in such cases by placing too much weight on aggravating factors and insufficient on mitigating features.
Stewart's counsel, Gavin Anderson, said a background report on him had clearly described him as "someone completely devastated by what had occurred".
Mr Anderson said it appeared from what the trial judge said in sentencing and in his report to the appeal judges that he had regard to matters "not relevant to the sentencing process".
He drew attention to the judge's description of Stewart as "meeting something of the stereotype of the boy racer".
Judge 'errors'
Mr Anderson said: "The trial judge ought to have recognised more fully than he did that the jury had deleted reference to the appellant driving at excessive speed."
The defence counsel also said that a comment that Stewart was driving "a ludicrously powerful small car" was irrelevant.
"It is true that this matter involved a serious lapse in judgement on the part of the appellant in his decision to overtake where he did and in the manner he did, but excessive speed was not a part of that," said Mr Anderson.
He pointed out that Stewart had no previous convictions and no outstanding cases and had been assessed as a low risk of re-offending.
Mr Anderson argued that any question of protection of the public was adequately dealt with by the 10-year driving ban imposed on Stewart, which was not appealed against.