Inspectors want State Hospital cleanliness improvement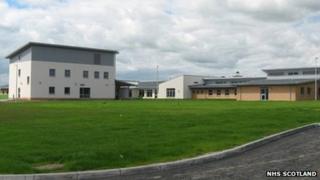 Health inspectors have called for improved standards of cleanliness at the State Hospital at Carstairs.
A team from the Healthcare Environment Inspectorate visited the facility in South Lanarkshire on 13 November.
They found that while good progress had been made since their last visit in May 2013, other areas of concern remained.
These included cleanliness of patient equipment, blood spillages management and the availability of hand washing facilities for staff and patients.
'Significant progress'
Susan Brimelow, HEI chief inspector, said "This inspection of the State Hospital was to follow-up infection control and cleanliness issues highlighted at our previous inspection.
"We found significant progress has been made towards compliance with the five requirements previously made, one of which is now fully met and four partially.
"However, areas where further improvement is required include the cleanliness of patient equipment, staff knowledge of how to manage blood spillages and ensuring appropriate hand washing facilities are available for staff and patients.
"This inspection resulted in four requirements and three recommendations. We will continue to monitor the standards of cleanliness at the State Hospital closely."
The facility at Carstairs provides high security mental health care for up to 140 patients.
Following publication of the report, nurse director Stephen Milloy, said he welcomed the recognition inspectors had given to the "significant progress" made since the last inspection.
He added: "We are pleased to note that the inspectors' view that the standards of cleanliness in the hospital are very good, and the great majority of the relevant HAI (hospital acquired infections) standards are being met to protect patients, staff and visitors from the risk of acquiring an infection.
"We are committed to continuing to provide quality care in a safe, clean and comfortable environment, and have an action plan in place to address the small number of requirements and recommendations."