Chris McCann jailed over PC murders comments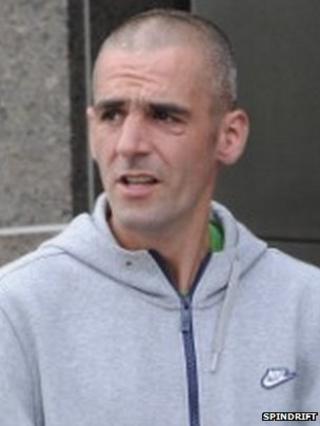 A man from Glasgow has been jailed for 290 days over a message on his Facebook page which mocked the murder of two police officers in Greater Manchester.
Chris McCann, 30, claimed a friend had posted the comments the day after PCs Nicola Hughes and Fiona Bone were shot dead by Dale Cregan in September 2012.
At Glasgow Sheriff Court, he admitted a breach of the peace by allowing them to appear and remain online.
McCann swore at Sheriff Ian Miller and called him a "ratbag" as he was jailed.
The court heard that the offensive comments appeared on McCann's Facebook page between 19 and 21 September last year.
The message also mentioned the "great" former Real IRA leader Alan Ryan, who died after being shot days earlier.
Sick reference
It read: "Only 2 of yous should have been 22 of yous. Thats karma coming back to bite yous ratbags for removing the cross monument honouring the late great Alan Ryan.
"Hope more of yous get took out watch out for they housebreakings ha ha ha boom TAL32."
McCann was later charged after police were alerted but claimed another person, who he had given details to access his Facebook page, was responsible.
Prosecutor Harry Findlay told the court that the word "boom" was a sick reference to a grenade thrown at the PCs by Cregan.
He also explained that "TAL" meant Tiocfaidh ar la - an Irish phrase meaning "our day will come" - and that the figure 32 referred to the number of Irish counties.
The court was told a monument had been erected in memory of Alan Ryan - murdered in Dublin in September last year - but that it was not known if Greater Manchester Police were responsible for it being removed.
PCs Fiona Bone, 32, and Nicola Hughes, 23, were shot dead by Cregan while they investigated a suspected burglary in Hattersley, Tameside.
Cregan was given a whole-life sentence in June last for their murders. He will never be freed.