Former drug theft PC Dean Burnett has assets seized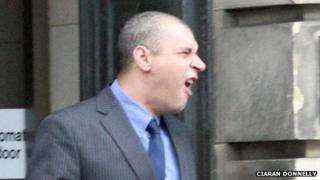 A former constable who stole drugs and £205,000 from Scotland's most secure police station has had cash seized under proceeds of crime legislation.
Dean Burnett, 43, was jailed for 45 months last year after admitting stealing from the Helen Street police station in the Govan area of Glasgow.
Prosecutors brought a proceeds of crime action to confiscate illegal profits.
A judge granted a confiscation order for £5,433 - an amount that matched Burnett's "realisable assets".
Police pension
Advocate depute Barry Divers said the Crown may seek to increase the order should Burnett have access to funds in a police pension in future.
The advocate depute said: "It is a matter of agreement that at this time this pension has no realisable value to him."
Mr Divers said that at some point in the future Burnett may have access to money from the pension and that in those circumstances the Crown reserved the right to seek to increase the confiscation order.
During his trial, it was heard how compulsive gambler Burnett turned to theft and spent the money on betting and prostitutes.
The law graduate carried out the thefts while working in Govan between August 2010 and January 2012.
The court was told Burnett stole drugs that were earmarked for destruction and took money linked to 98 separate cases.
'Reckless behaviour'
When he was finally caught, only £1,900 of the £205,000 was recovered.
Prosecutors accused him of "months of hedonistic, reckless behaviour".
The court also heard how Burnett took a submachine gun from the station's production room and considered going to the senior management area before deciding not to.
He also got hold of a shotgun and rifle and thought about killing himself.
Burnett, who joined the police in 1995, told the court: "I wanted to do it that much, but what was going through my head was the effect on everyone else."
Burnett pled guilty to stealing £205,279 along with cocaine, cannabis, heroin and other powders he believed were drugs.
He went to trial on a charge of supplying cocaine to escort girls, but a jury returned a not proven verdict.
He was also found not guilty of being concerned in the supply of diazepam and heroin.