Glasgow hit by 10 burst water mains in one day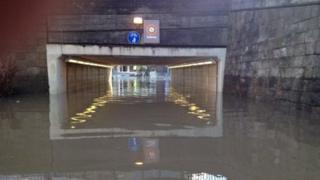 Severe flooding in central Glasgow was caused by one of 10 water main bursts which affected the city on Thursday, it has emerged.
Scottish Water said a problem with its pressure management system caused the bursts. This has been fixed and steps are being taken to avoid a repeat.
The utility firm said 10,000 people and businesses had supplies disrupted.
Engineers have repaired nine of the 10 mains. Work on one at Cowcaddens Road will take place over the weekend.
Another burst on a water main in Great Western Road, which was not linked to the other bursts, was repaired on Friday morning.
'Minimise disruption'
A statement from Scottish Water said: "The issue with pressure management caused a total of 10 bursts in Glasgow, including locations in New City Road, Cowcaddens Road, Duke Street, Keppochhill Road, Bilsland Drive, Alison Street and Tankerland Road.
"Work to repair a burst water main in Cowcaddens Road will take place at night time this weekend in order to minimise any disruption to customers in the area and keep them in supply during our work.
"Engineers have reduced the flow of water from this burst by adjusting a valve and water supplies to customers in the area are not affected."
The statement said that about 40 engineers had been deployed across the city to repair the burst mains.
Extensive flooding
"Engineers worked as quickly as they could to put backfeeds in place to minimise any inconvenience caused to those customers who were affected while we worked to complete the repairs," the statement said.
"We apologise to all affected customers and thank them for their patience and understanding."
The burst water main in New City Road caused extensive flooding in Shamrock Street and resulted in the evacuation and closure of Glasgow Kelvin College.
Scottish Power engineers were also called to the area amid concerns about flood water affecting a nearby electricity substation.
A pedestrian underpass at Cowcaddens was submerged under water and had to be cleared by fire crews using pumping equipment.