Seven universities set up national wind tunnel facility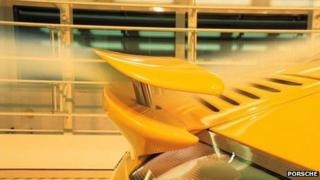 Wind tunnels facilities at seven UK universities are to be upgraded as part of a £13.3m project to place Britain at the forefront of aerospace research.
The new National Wind Tunnel Facility will incorporate two sites in London and others in Glasgow, Cambridge, Oxford, Southampton and Cranfield.
These will be available for use by researchers and industry.
UK Universities and Science Minister David Willetts said they would support "pioneering work".
"This new investment will support research that is vital to the UK economy, including developing the next generation of fuel efficient heavy goods vehicles," he said.
"This will create huge energy savings to businesses, as well as bringing environmental benefits."
Diagnostic equipment
The £13.3m funding package comes from the Engineering and Physical Research Council and the UK Aerodynamics Centre.
It will be shared by Imperial College London, City University London and the Universities of Cambridge, Cranfield, Glasgow, Oxford, and Southampton.
Glasgow University has been awarded £1.7m to upgrade one its four existing wind tunnels.
This will see the introduction of a gust facility and state-of-the-art diagnostic equipment.
The tunnel will be used to conduct research into unsteady aerodynamics in areas of aerospace such as rotorcraft, as well as helping in the development of technologies in the wind energy sector.