Gartnavel Hospital in Glasgow must improve elderly care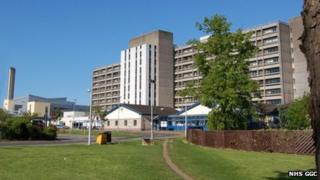 A Glasgow hospital has been told to make improvements in the standard of care for elderly patients after several shortcomings were found by inspectors.
A Healthcare Improvement Scotland (HIS) team visited Gartnavel Hospital from 29 to 31 October last year.
It found examples of poor record keeping, inadequate ward signage and irregular patient screening.
HIS inspectors found four areas of strength, 15 areas for improvement and two areas for continuing improvement.
Jacqui Macrae, HIS head of quality of care, said the inspectors found areas where the health board - NHS Greater Glasgow and Clyde (GGC) - was performing well.
'Inconsistent approach'
"We saw examples of warm, caring and friendly interactions between staff and patients, with the majority speaking highly of the care they received," she said.
"Nursing staff said they felt supported and wards were managed well."
Ms Macrae said the inspection team also identified a number of areas where NHS GGC needed to improve its standard of care to older people.
"We found an inconsistent approach to the completion of patient documentation including 'do not attempt cardiopulmonary resuscitation' forms, adults with incapacity forms and personalised care plans, with many completed incorrectly," she said.
"We saw limited use of dementia friendly signage and found the hospital had not followed best practice guidelines to help dementia patients find their way around the wards.
"We also found cognitive impairment screening was not routinely carried out for patients over the age of 65 years upon hospital admission and there was no evidence to show the correct care subsequently being put in place."
'Positive findings'
Ms Macrae added: "We expect NHS Greater Glasgow and Clyde to address the areas for improvement we have identified."
Rory Farrelly, NHS GGC's acute director of nursing, said the health board would make the necessary improvements.
"We recognise that there are still areas we need to address and an improvement plan has been developed to ensure that the requirements and recommendations made by the inspection team are implemented," he said.
Mr Farrelly said NHS GGC was "pleased" with the "number of positive findings" made by the inspection team.
"In particular, we were pleased that the inspectors noted that interaction between staff and patients was warm and caring, and that the majority of patients were positive about their stay in hospital," he said.
"The report also recognised that patients are at the centre of care and this is supported by the patient's panel who have been involved in a number of the improvements that have been made to enhance the patient experience."