Lion tamer's wedding features in online archive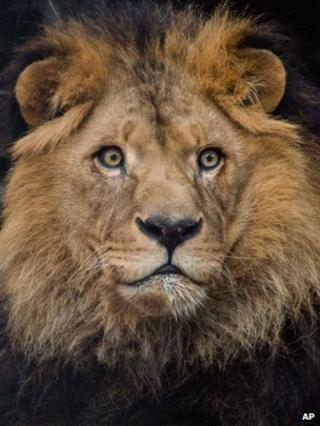 The marriage of a lion tamer and a poet, witnessed by a leading Scottish socialist, is among the latest set of records being made available online.
Circus performer Alfred Kaden tied the knot with Vera Husing in Glasgow in January 1938.
One of the witnesses was former Glasgow MP John Smith Clarke, who had also been a lion tamer.
The record is one of 38,716 marriages in 1938 that will be available on the ScotlandsPeople website on Wednesday.
Scottish births from 1913 and deaths from 1963 have also been uploaded to the site for the first time.
German divorcees Kaden and Husing were married by declaration in a Glasgow solicitor's office, under a licence of the Sheriff of Glasgow.
Husing was a poet and the daughter of a landowner.
Just weeks before her wedding she survived one of Scotland's worst railway crashes, in which 35 people died and 179 were injured.
The accident happened in the evening of 10 December 1937 in heavy snow when the Edinburgh to Glasgow commuter express hit a late running Dundee train at Castlecary station.
Investigations after the incident found a signaller error was to blame.
Clarke, who was from a large family of travelling performers, was one of the two witnesses at Husing's wedding on 5 January.
He was said to have become a lion tamer at 17 when he stood in for the billed, but drunken, act.
He went on to become a writer and publisher of socialist literature, including his 1918 pamphlet The Young Worker's Book of Rebels, and later a leading figure in the Socialist Labour Party.
It was said that during a visit to Moscow in 1920 he treated Vladimir Lenin's dog for a serious illness.
Clarke was MP for Maryhill in the late 1920s and early 30s.
Babies names
The records to be made available online also show that in 1938, the average marriage age was 26.7 for women and 29.7 for men.
In 2012, there were a total of 30,534 marriages, with an average age of 34.8 for women and 37.2 for men.
In 1913, the population was about four million and there were 120,516 births. By contrast, in 2012 there were 58,027 births and a total population of more five million people.
The records also show the change in babies' names over the past century.
In 1913 only three baby girls were named Sophie, while last year 580 girls were registered with the name.
And in 1913 only three boys were called Jack, but while more than 500 boys were given the name in 2012.
In 1913, the most popular names for baby girls were Mary, Annie and Agnes, with John, James, Robert and William topping the list for boys.
'Crammed full'
Culture and External Affairs Secretary Fiona Hyslop said the records told stories about Scotland's history.
She said: "The new images of records being made available to the public from tomorrow represent a new chapter of Scotland's story now available to the public.
"I'd encourage anyone who is interested in finding out more about their local history or family background to have a look at the wealth of records now available as part of our wonderful online resources."
Tim Ellis, Registrar General and Keeper of the Records of Scotland, added: "The records that National Records of Scotland holds are crammed full of fascinating stories about Scotland's people and history.
"If someone out there recognises the story of the liontamer and the poet, we would delighted to learn what became of them."