Glasgow 2014: Sporting heroes bid to inspire next generation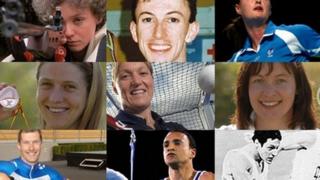 Scotland's past sporting heroes have spoken about their own Commonwealth Games journeys in a bid to inspire the next sporting generation.
The stories feature on the Legacy 2014 website, which details projects aiming to bring lasting benefits from the Glasgow Games.
The 21 stars include gold medallists Allan Wells, Gregor Tait, Steve Frew and Shirley McIntosh.
They describe the impact to their lives and also to the wider community.
Scotland's Sport Minister Shona Robison said: "As we head into 2014 and the biggest year for Scottish sport, our athletes in Team Scotland at the Commonwealth Games carry the high expectations of the nation.
"They cannot fail to be inspired by our sporting heroes of Scotland's past, and these athletes stories will undoubtedly inspire even more great sporting moments next year.
"In turn the sporting stars of this generation, competing at the Games next year, will create a lasting legacy themselves and inspire Scots to become more active."
Meadowbank Stadium
Allan Wells, who had six medal wins from two consecutive Games, spoke about how the 1970 Commonwealth Games in Edinburgh played a major role in his sporting success.
"A small part of the legacy from the Commonwealth Games coming to Edinburgh in 1970 was the new track built at Meadowbank Stadium," he said.
"For me, it is a small legacy, which has had an immense impact on my life."
He added that while the Games was an event for athletes, the legacy was for the people of Glasgow and Scotland.
He said: "I hope seeing new world-class facilities being built on their doorsteps will inspire more young people to get active and for those already involved in sport, to get to the next level."
Boxing Commonwealth gold medallist Dick McTaggart from Dundee, added how important it was for the nation to get behind the team in the lead up to 2014.
The boxing legend, who was crowned Commonwealth champion at the 1958 Games in Cardiff, said the support from home was a "huge factor".
He said: "To this day I still remember walking into the arena with everyone cheering my name and our young fighters will have that experience in Glasgow next year. Nothing can match it and it does give you that edge."
Para-athletes' success
Scotland's most successful ever athlete in a single Commonwealth Games, Gregor Tait, originally from Glasgow, said everyone in Scotland could benefit from the Games.
He said: "I know Scotland can put on the greatest show of all time and put our compact country on the map - after all, people only need to see how amazing a place it is to fall in love with it."
The 15-times medallist in the Paralympic Games, para-swimmer Paul Noble said: "It's especially great for young people with disabilities to see para-athletes not just competing on the world stage but right on their doorsteps too.
"It shows just what can be achieved if you work hard for it and hopefully might inspire a new generation of young para-athletes in Scotland to take up sport."
The stories of all 21 sporting heroes can be read at: www.legacy2014.co.uk.