Woman, 83, dies after Christmas Day house fire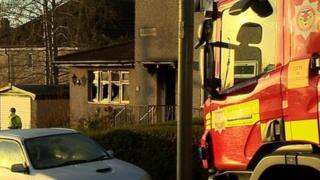 An 83-year-old woman has died in a Christmas Day house fire in the east end of Glasgow.
The alarm was raised at the property in Hermiston Road in the Springboig area at 20:35 on Wednesday.
Firefighters found Mary McConnell inside the house and she was pronounced dead at the scene.
Police Scotland and the fire service are conducting an inquiry into the cause of the blaze.
In Johnstone, Renfrewshire, a 10-month-old baby and two other children were taken to hospital for precautionary checks after a late night house fire.
Firefighters were called to the property in Auchengreoch Avenue at about 22:20 on Wednesday.
The fire was in a room in the roofspace of the two-storey house. Three adults were checked at the scene.