Fugitive drug trafficker Allan Smith jailed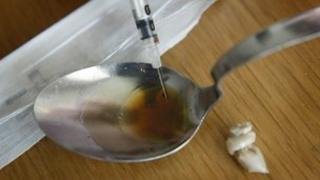 A fugitive drug trafficker has been jailed for six years after being returned to Scotland.
Allan Smith, 45, was due to stand trial with other members of a drug gang in 2008 but failed to appear at court and fled abroad.
Police suspected he had probably gone to Greece and a European arrest warrant was later issued for him.
But Smith was detained earlier this year in the Netherlands.
After appearing in a court in Amsterdam he agreed to be extradited back to Scotland.
A judge at the High Court in Edinburgh told Smith he had been involved in "a very significant drug supply operation".
Major operation
Lord Turnbull said: "I am also satisfied your contribution to the success of the operation was an important one and that you participated at quite a high level."
Smith admitted being concerned in the supply of heroin in 2007, and failing to appear at the High Court in Glasgow the following year.
Lord Turnbull said he would have jailed him for seven years for the drugs offence, but would reduce it to a five-year term following his guilty plea.
The judge ordered that he serve a consecutive one-year sentence for failing to turn up for the court proceedings.
The court heard that in 2007 a major operation was mounted by the Scottish Crime and Drugs Enforcement Agency into an organised crime gang.
It resulted in 11 people being reported for prosecution, with Smith being said to have operated towards "the upper end of the group".
Smith was seen in the company of the alleged head of the organisation on a number of occasions during surveillance operations.
Empty bags
On 4 October 2007 he was seen handing over a package to a man in Cairnlea Drive, in the Ibrox area of Glasgow.
Police moved in and Smith tried unsuccessfully to flee. The package was seized and found to contain half a kilo of heroin worth £49,000 on the streets.
A coffee shop he ran in Hyndford Place, in Lanark, was also searched and officers discovered 12 kilos of bicarbonate of soda which can be used as an adulterant to bulk out drugs for supply.
They also found 18 empty bags, identical to that in which the half kilo of heroin was packaged in, stained with traces of the Class A drug.
The Crown believed the bags had contained a total of at least nine further kilos of the drug worth in excess of £700,000.
Police also seized paperwork which showed that Smith had changed £50,000 into euros.
Defence counsel Tony Graham said Smith was not involved in planning the drugs operation, but became involved once it had been set up by others.
He said Smith had essentially been in business for most of his adult life, particularly in the motor trade.
Mr Graham said at the time of the offending Smith was in his late 30s and had a very limited record with no convictions of a similar nature.