Glasgow helicopter crash: Bands record Clutha fund album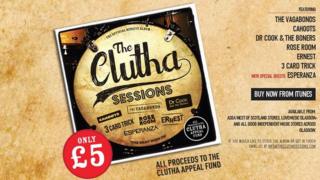 The band that was playing in Glasgow's Clutha bar when a police helicopter crashed killing 10 people has launched an album to support the appeal fund.
Esperanza is one of seven groups to contribute songs to the 10-track CD "The Clutha Sessions".
Meanwhile, a comedy gig at Glasgow's O2 Academy on Sunday raised about £20,000.
The Police Scotland helicopter crash at the Clutha on 29 November killed the three crew members and seven people inside the busy pub.
In the aftermath of the tragedy, Glasgow City Council launched the Lord Provost's Clutha Appeal Fund to provide financial help to survivors and families of those who had died.
'Phenomenal support'
By the end of last week, the fund had raised £220,000.
Bill Gaughan, of Neon Tetra Records, hopes the Clutha Sessions album will add significantly to the fund.
"This project is very much in the spirit of the Clutha, with everyone calling in friends and contacts to make it happen," he said.
"The level of support has been phenomenal, with city businesses and individuals really living up to Glasgow's reputation as 'No Mean City'."
Mr Gaughan said Asda had placed an order for 3,200 copies and most of Glasgow's independent music stores had agreed to stock the album, which is priced at £5.
He added: "We will also promote through our own social media, through local retailers, the participating bands and friends and family."
'Hugely moved'
The Clutha Sessions is also being made available on Amazon and for download through iTunes.
As well as Esperanza, other bands who gave their time and tracks for free are: The Vagabonds, Rose Room, Cahoots, Dr Cook and the Boners, Ernest and 3 Card Trick.
Clutha Bar owner Alan Crossan said: "I am hugely moved, but not surprised to see these bands, all Clutha favourites, represent the spirit of Glasgow's live music scene in this way.
"The tragedy has brought terrible sadness but it also illuminates a side of our town and its people in the most positive way imaginable. Only in Glasgow."
A comedy gig at Glasgow's O2 Academy on Sunday, headlined by Ford Kiernan, raised about £20,000 for the Clutha fund.
Other performers included Fred Macauley, Janey Godley, Des Clarke and Stu Who.
Speaking before the gig, organiser Alan Anderson said: "Like many people I just wanted to do something to help. It made sense to organise a fundraising gig.
"It's incredible that despite this being one of the busiest times for comedians they've all given their time up for free because they all want to do something."
Ten people died in the Clutha tragedy.
They were: Pilot David Traill, 51, Pc Tony Collins, 43, Pc Kirsty Nelis, 36, Joe Cusker, 59, John McGarrigle, 57, Mark O'Prey, 44, Gary Arthur, 48, Colin Gibson, 33, Robert Jenkins, 61, and Samuel McGhee, 56.
It has not yet been established what caused the helicopter to crash, although investigators say initial evidence rules out engine or gearbox failure.