Drop-in service aims to cut deaths from 'legal high' drug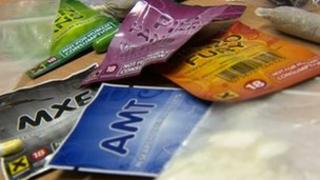 Three Scottish charities are to pilot a drop-in service in an attempt to cut the harm caused by "legal high" drugs.
It follows a number of deaths from people who had taken the drugs - officially "new psychoactive substances."
The centre, in Glasgow, will offer advice and information about the risks associated with legal highs.
It will operate over the Hogmanay period, targeting young people and party-goers.
The charities organising the scheme - Turning Point Scotland (TPS), Crew and Glasgow Council on Alcohol - said while they did not condone drug use of any kind, it was important to prevent people who were taking legal highs coming to harm.
Tricia Tracey, TPS service manager, said: "We want to help keep people safe and ensure they are informed about the effects these substances can have.
"Often people don't know what they are buying or the strength and purity of what is in them.
"Impartial, non-judgemental advice is important to reducing the potential harm posed by taking legal highs."
Helpline number
Figures for 2012 included, for the first time, drug-related deaths in which legal highs were involved.
There were five cases in which they were the only drug involved and a further 47 where the presence of "legal highs" were detected.
The drop-in centre, at the TPS Glasgow Drug Crisis Centre at 123 West Street, Tradeston, in Glasgow, is set to open on 30 December.
The charities are urging anyone concerned about the risks associated with the use of these types of stimulants, either personally or for family or friends, to use the service between 18:00 and 21:00.
A helpline number 07587320438 will also be available during the same hours.
The Scottish government has said although reclassification of drugs is reserved to the UK government, it has been working with the Home Office and Police Scotland to identify and tackle the supply of new psychoactive substances threatening public health.