Tracy Meikle guilty of brutal knife murder of Lorraine Foy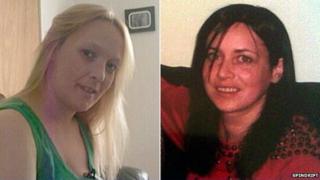 A woman is facing a life sentence after being convicted of murdering a mother-of-two in a frenzied knife attack.
Tracy Meikle, 33, stabbed 36-year-old Lorraine Foy five times on the neck and body, in front of the victim's two teenage daughters, on 22 June.
Ms Foy had gone to confront Meikle at her flat in Glasgow after being told she had head-butted a 14-year-old girl.
Meikle claimed she acted in self defence but was convicted of murder. Sentence was deferred.
The High Court in Glasgow heard how Ms Foy went in a taxi to confront Meikle over the head-butting allegation.
She demanded that Meikle came down from her flat in Crowlin Crescent, Cranhill, and explain why she had done this.
Meikle grabbed a black-handled knife before walking down the stairs.
She then attacked Ms Foy with the knife, plunging it into her neck and body five times.
One blow severed a main artery and another cut the jugular vein.
Ms Foy's daughter Amy Foy, 13, said that Meikle came down the stairs and the two women began to scuffle.
She added: "I shouted to my mum 'she's got a knife up her sleeve' but mum never heard me and they started fighting.
"Mum and her were fighting and she was trying to get it out and couldn't. Then she did and stabbed my mum in the neck."
The court heard that Ms Foy was unarmed. The only thing she had in her hands was a pack of cigarettes.
'Frenzied attack'
Ms Foy's friend, Michelle Cochrane, 41, told of how she tried to pull Meikle away saying: "She was like a wild animal stabbing into Lorraine's neck. She was just blank. It was a frenzied knife attack."
Mrs Cochrane said that she got behind Meikle and punched her a couple of times on the head and added: "She was still stabbing Lorraine. I couldn't get her off. It was like somebody with double strength."
The attack lasted just over 30 seconds before Meikle went back up to her home.
Mrs Cochrane said that her friend was lying in the middle of the road with blood coming from her neck.
She said she went over to Ms Foy and put her hand round her neck.
The witness added: "Blood was seeping my hand. I was saying to Lorraine: 'Stay awake, stay awake'.
"She looked at me with her left eye and there was a tear in it, she blinked twice and then it was as if her eyes changed colour. I knew then that I had lost her."
In evidence, Meikle admitted she stabbed Ms Foy to death, but denied murdering her and claimed she was acting in self-defence.
She said she took the knife with her because she feared she was going to be slashed.
She told defence QC Gordon Jackson that she could not remember what happened after that.
Judge Lord Jones deferred sentence on Meikle until next month at the High Court in Edinburgh.
As she was led away from the dock a woman shouted at her: "I hope you rot in hell."