Glasgow helicopter crash: Funeral held for Joe Cusker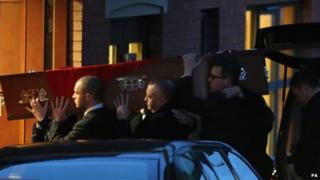 More than 200 mourners gathered for the funeral of the 10th victim of the Clutha bar helicopter crash.
Joe Cusker, 59, was inside the Glasgow pub when a police helicopter crashed through the roof on 29 November.
Mr Cusker, of Cambuslang, South Lanarkshire, was pulled from the wreckage alive but died in hospital from his injuries 13 days later.
Mourners attended his funeral service on Wednesday at South Lanarkshire Crematorium in Blantyre.
Police outriders accompanied the hearse as it arrived at the crematorium for the humanist service.
The coffin was draped with a red socialist flag and a single white rose had been placed on top.
'Papa Joe'
Scottish Community Safety Minister Roseanna Cunningham attended the service along with senior police officers, Glasgow City Council leader Gordon Matheson and Lord Provost Sadie Docherty.
Mr Cusker's family have described their devastation over his death.
In a statement released before the funeral, they said: "When the accident happened, our family thought we were one of the lucky ones. Losing Joe 13 days later has left a huge gap in our lives which, at this moment, we can't imagine beginning to fill.
"We are now left with the task of making sure his grandchildren grow up knowing who their 'Papa Joe' was, even if some of them are too young to remember him.
"The family would like to express their gratitude for all the support and good wishes they have received at this difficult time.
"We would also like to thank the emergency services, who gave Joe a fighting chance by removing him from the Clutha at risk to their own safety."
'Eternal gratitude'
Mr Cusker's family said the "care, compassion and support" of staff in the intensive care unit at Glasgow Royal Infirmary had earned their "eternal gratitude and admiration".
The statement said: "Although Joe had lived in South Lanarkshire for many years, he was a Glaswegian at heart, and he would have been proud at the courage and generosity that the people of Glasgow have shown in the midst of this tragedy."
Funerals took place last week for the three helicopter crew who were killed - Pilot David Traill, 51, Pc Tony Collins, 43, and Pc Kirsty Nelis, 36 - and the six other pub customers who lost their lives.
They were John McGarrigle, 57, Mark O'Prey, 44, Gary Arthur, 48, Colin Gibson, 33, Robert Jenkins, 61, and Samuel McGhee, 56.
It has not yet been established what caused the helicopter to fall from the sky, although investigators say initial evidence rules out engine or gearbox failure.