Mortality rate probe at NHS Lanarkshire exposes widespread care failures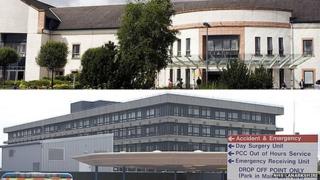 A health board must make widespread improvements after a probe into above-average mortality rates found serious problems with understaffing, quality of care and patient record keeping.
Inspectors have made 21 recommendations after looking at Wishaw, Monklands and Hairmyres Hospitals in NHS Lanarkshire.
They found no definitive reasons for the above-average mortality rates but uncovered many other problems.
A government-appointed team will now ensure rapid improvements are made.
Health Secretary Alex Neil, who made a statement on the situation in parliament, said he expected "urgent" action to implement the recommendations.
'Damning report'
Scottish Labour called for a full debate at Holyrood to discuss the findings in depth.
Labour MSP Neil Findlay said it was a "damning report" and said NHS Lanarkshire was in a "state of perpetual crisis". He said senior management must be held to account.
"People have died unnecessarily in Lanarkshire due to failures within the NHS," he said.
Conservative MSP Nanette Milne highlighted "very concerning shortcomings on patient care, staffing levels and the admission of emergency patients to appropriate wards" contained in the report.
Scottish Liberal Democrat MSP Alison McInnes said: "This damning report makes clear repeatedly that across the three NHS Lanarkshire hospitals there must be robust action to ensure more sustainable medical staffing."
Health Secretary Mr Neil commissioned the review by Healthcare Improvement Scotland (HIS) in August following the publication of mortality data which showed that Monklands and Wishaw Hospitals had high ratios for the previous quarter.
Records reviewed
It was subsequently clarified that the higher ratio only applied to Monklands Hospital.
The review team, chaired by Robbie Pearson from HIS, listened to the experiences of more than 300 patients and carers, more than 200 health board staff and reviewed 152 patient records.
Mr Pearson said: "Although the review team found a service where clinicians and managers are working hard to do the right thing, sometimes in a difficult environment, the team concluded that a broad range of improvements are necessary for NHS Lanarkshire to continue its commitment to delivering safe and effective patient care.
"This includes the need for stronger focus and leadership in implementing robust patient safety interventions and in the redesign of services.
"The review team expects that the recommendations made in this report are to be used to provide guidance and support for those working in NHS Lanarkshire to help them to deliver the necessary improvements."
The HIS inspectors report said it was "not possible to draw definitive reasons for the higher than average hospital standardised mortality ratio (HSMR)".
However, it said the review team had concluded that it may be contributed to by one, or a combination, of factors:
Quality of care: "Whilst it is not possible to draw definitive conclusions about quality of care on the basis of the HSMR, it is possible that issues with the quality of care could contribute to avoidable deaths and that the HSMR is drawing attention to this"
The quality and timeliness of discharge documentation: "For example, if this documentation does not capture the full extent of the patient's condition, this could lead to an underestimate of the risk of death and consequently lead to a higher HSMR."
The report makes 21 recommendations for improvements at the three hospitals.
These include NHS Lanarkshire strengthening its leadership and focus to improve the quality and safety of care; ensuring that nurse staffing levels are safe and adequate; ensuring medical staffing is more sustainable; and improving support for patients whose condition is deteriorating.
NHS Lanarkshire's Chief Executive Ian Ross said: "We regret any occasion where patient care has fallen short of the high standards we strive for.
"We accept the recommendations and recognise many of them as areas where we are already making improvements."
Dr Iain Wallace, NHS Lanarkshire's medical director, said the report "identifies some challenges within emergency care services that we are already taking action to address".
"We have already changed the pattern of medical cover in late evenings and weekends," he said.
'Rapid improvements'
"With our clinical leaders we will develop a priority action plan to drive forward the changes necessary in line with the report findings which identify that models of care need to be built around patients, taking account of the workforce that is available."
Dr Wallace added: "No one is underestimating the need for rapid improvements to ensure local people have a high degree of confidence in their local health service and I am confident that we have the right people in place to deliver the changes required."
NHS Lanarkshire has set up an inquiry line - 0800 849 4129 - for anyone who wishes to discuss the standard of care they or a relative received.
Health Secretary Alex Neil said NHS Lanarkshire was "already making progress in a number of key areas".
He said: "Today I am announcing that we are providing a Governance and Improvement Support Team to work with NHS Lanarkshire to help them deliver the rapid and sustained improvements which are needed.
"I expect those improvements to be made urgently, and I have asked to be updated regularly.
"I have also asked for a formal review of progress against the recommendations by the end of March."
'Rapid review'
NHS Scotland clinical director Prof Jason Leitch said: "Although a high hospital standardised mortality ratio is not by itself a definitive measure of the quality and safety of care, it serves as an important prompt for further investigation.
"We should be clear that while the reduction in HSMR in Lanarkshire is to be welcomed and the safety programme is having a positive effect, we now need to see faster progress in line with the improvements made across the rest of Scotland.
"NHS Lanarkshire, working with this expert team, are now urgently working on an action plan to address the issues highlighted in the rapid review."
Dr Neil Dewhurst, president of the Royal College of Physicians of Edinburgh, said the findings of the review made "depressing, but not surprising reading".
"They are an indication of systems under severe pressure and prevalent in unscheduled care," he said.
"Clinicians across Scotland will recognise the challenges facing colleagues in Lanarkshire."
Dr Dewhurst said it appeared that doctors and nurses were working "under severe pressure with rising numbers of patients treated by a workforce with high locum levels and local recruitment difficulties".
He added: "Insufficient senior review, particularly out of hours, an over-reliance on junior doctors and poorly resourced quality improvement systems contributed to a downward spiral of quality.
"Quite simply, clinical teams in Lanarkshire were unable to provide the quality of care that patients have a right to expect and which are enshrined in national quality standards.
"It is not surprising that a statistically significant increase in mortality rates in patients were evident."