Eurocopter in worldwide safety alert on 'Clutha crash' helicopter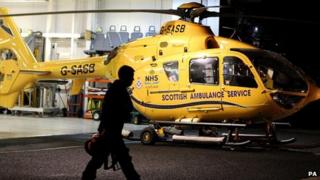 Helicopter maker Eurocopter has issued a worldwide safety alert to operators of its EC 135 model - the type that crashed in Glasgow last month.
The firm said a problem with the low fuel level warning system had been discovered in a number of aircraft.
There is no suggestion it is linked to the Clutha bar crash in Glasgow on 29 November, in which 10 people died.
Air accident investigators have already said the Police Scotland aircraft did not run out of fuel.
Bond Air Services, which operated the police helicopter, grounded its fleet of 38 EC 135s last week.
The move came after an air ambulance, one of its 22 aircraft leased in the UK, was found to have a fuel indicator problem. Tests found others also had the same fault.
'Red warning'
A spokesman for Eurocopter said tests by Bond and two other EC 135 operators in Europe found possible similar supply-tank fuel gauging errors that overestimated the fuel on board.
"The first analysis shows that the indication of the fuel quantity in the supply tanks could be overestimated," the company said in a statement.
"All crews should be aware that in the worst case a red warning "Low Fuel" could appear without any amber FUEL Caution before."
Eurocopter said it was issuing a safety notice to remind all EC 135 operators to follow the safety procedures already in place and outlined in the flight manual, regardless of the aircraft's fuel quantity indication.
The company said it would "update its Safety Information Notice as needed" with investigations continuing.
Bond Aviation said in a statement on Monday that the results of the tests on the rest of its helicopters were validated by Eurocopter, and appropriate repairs were made before returning the aircraft to service.
The discovery of the fault in Bond's fleet came 12 days after one of its EC 135s leased to Police Scotland crashed into the Clutha pub in Glasgow killing three crew members and seven people inside the pub.
The helicopter was only minutes away from returning to its base when it dropped vertically onto the roof of the bar.
A preliminary report from the Air Accidents Investigation Branch found no major engine or gearbox problems with the police helicopter.
It also found that the aircraft had sufficient fuel when it crashed at 22:25 on 29 November.