Rape suspect 'came out of Hampden'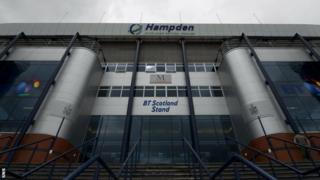 Police believe the man who raped a 51-year-old woman in her Glasgow home came out of the main entrance of Hampden Stadium shortly before the attack.
Officers said CCTV footage suggested the man came out of the stadium, where a party night function was being held.
The woman, who lives in nearby Mount Florida, was said to be "extremely traumatised" by the assault.
She received treatment at the Victoria Infirmary for facial injuries and was later released.
Det Insp Kate Jamieson, of the National Rape Task Force, said police had been gathering CCTV footage and carrying out door-to-door inquiries in the area.
She said the woman was seen walking outside Hampden Stadium at about 00:30 on Sunday when she was approached by a man.
The detective said the CCTV images suggested the suspect came out of the main entrance to Hampden Stadium just before midnight and it appeared he talked to another man who gave him directions.
The other man then returned to the party night inside the stadium complex.
Police said extensive inquiries were ongoing to identify the suspect.
He was described as white, about 30 years old, 5ft 10in to 6ft in height and of medium build with short dark hair.
The suspect was said to have a round face and a wide smile.
Police said the man was very smartly dressed and wore a dark-coloured three-quarter length coat with distinctive buttons - possibly cream or white, a dark-coloured suit with a handkerchief in the breast pocket and a light-coloured shirt.
Anyone with information was asked to contact police.