Glasgow church theft suspect 'reined in' by police horses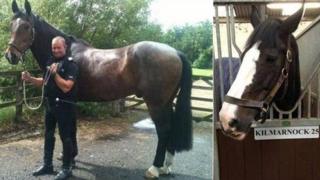 A man suspected of stealing from a Glasgow church has been arrested after mounted police foiled his getaway.
Officers saw him arguing with members of the Church of the Pentecost, on Cathcart Road, at 18:15 on Friday.
The man ran off when he saw the mounted police but was quickly cornered by the two officers who gave chase on their horses, named Inverness and Kilmarnock.
The man was arrested for the alleged theft of computer equipment and taken into custody.