Poor weather hampers search for Jamie Taggart in Vietnam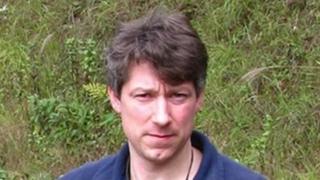 The search for a Scottish botanist who is missing in Vietnam has been suspended due to poor weather.
Jamie Taggart was last seen heading off into the mountainous Sapa area to look for rare plants on 30 October.
He runs Linn Botanic Gardens, in his home village of Cove, on the Rosneath peninsula, in Argyll and Bute, and was hoping to photograph rare plants.
Friends of the 41-year-old have set up a fund to ensure the search continues. It is scheduled to resume on Sunday.
Family and friends of Mr Taggart have also released pictures of his last trip to the region, which is in north Vietnam.
Local police and the British embassy in the capital, Hanoi, have been informed of his disappearance.
Mr Taggart's father Jim Taggart found out his son was missing when he failed to appear on a scheduled flight home to Scotland on 29 November.
Mr Taggart told the BBC: "I don't think he got lost. Either something happened on his first day on the hills or there is some explanation we can only guess at."