Glasgow helicopter crash: Funeral of Samuel McGhee held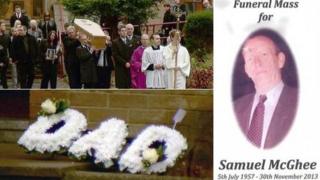 Hundreds of mourners have gathered for the funeral of another victim of the Glasgow helicopter crash two weeks ago.
Samuel McGhee, 56, was one of 10 people who died when the Police Scotland aircraft came down on the Clutha pub.
His family and friends gathered for the service at St Margaret Mary's Church in the Castlemilk area of the city.
Beforehand, the family thanked the emergency services and people of Glasgow for their efforts in the aftermath of the tragedy.
A kilted piper played Amazing Grace at the church door as the hearse arrived.
Family sorrow
Among the congregation were Mr McGhee's son and daughter by his late partner Liz - Michael, 25, and Kerry, 20 - and his son from a previous relationship, James Diver, 33.
The two sons embraced each other as they helped to carry their father's coffin into the church.
Mr McGhee's daughter wept as she entered the service carrying a red rose.
Chief Superintendent Barry McEwan, of Police Scotland, was among the mourners, along with Glasgow Lord Provost Sadie Docherty and Glasgow City Council leader Gordon Matheson.
A white floral tribute reading "Dad" was placed outside the church door.
'Dedicated parent'
Before his funeral, his family paid tribute, saying: "We'd like to start by thanking the tireless efforts of the emergency services and the ordinary people of Glasgow on Friday night. Without them we're sure a lot more people would have lost their lives.
"It's been an incredibly difficult time for us and everyone involved with the tragedy, but the support from family, friends and the people of Glasgow has been overwhelming.
"Our father was a dedicated partner to our late mother and a dedicated parent to his children, who was just beginning to get his life back on track after the loss of our mum.
"As you can imagine this has been an intensely painful experience for us but we're strengthened by the knowledge that he passed away a happy man, among friends at a place he loved.
"We kindly ask for our privacy to be respected at this moment in time."
A service will be held at the city's Linn Crematorium after the church.
Safety checks
Eight funerals have already been held for those who died.
Helicopter pilot David Traill, 51, was remembered in a service at Glasgow University last Saturday, and hundreds of police officers attended funerals this week for Pc Tony Collins, 43, on the Isle of Arran, and Pc Kirsty Nelis, 36, in Glasgow.
Tributes were paid to pub customer John McGarrigle, 57, at a Requiem Mass in Castlemilk, while the funerals of Mark O'Prey, 44, from East Kilbride, and Gary Arthur, 48, from Paisley, were held on Monday.
On Thursday Colin Gibson, 33, and Robert Jenkins, 61, were laid to rest at separate funerals.
Joe Cusker, 59, from Cambuslang, South Lanarkshire, became the 10th victim of the tragedy on Thursday.
He was also a customer in the pub and died in Glasgow Royal Infirmary.
It has not yet been established what caused the helicopter to crash on 29 November, although investigators say initial evidence rules out engine or gear box failure.
On Thursday, Bond Air Services temporarily suspended flights of the model of helicopter that crashed on the pub after a defect was discovered on a recent flight.
Most have returned to service after safety checks were carried out.