Bond Air Services emergency helicopters back in air after grounding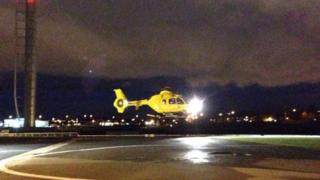 Emergency services helicopters are back in the air after being grounded due to fears about the safety of their fuel indication systems.
Bond Air Services had suspended flights on all 22 of its EC 135s - the same model which crashed into the roof of the Clutha pub, killing 10 people - after a fault was found on Wednesday.
UK ambulance services were affected.
Bond Air Services said that aircraft confirmed as having "no fault" would return to service.
The National Police Air Service did not ground any aircraft.
'Temporarily suspended'
Bond Air Services said its fleet had been grounded as a "precautionary measure".
A statement read: "Following an issue with the fuel indication system on one of our aircraft yesterday we temporarily suspended service operations whilst we undertook further technical investigations of our fleet of EC 135s."
It added: "We will continue to work with the manufacturer Eurocopter on any aircraft which are found with this fault, with the aim of resuming normal service as soon as it is safe to do so."
Eurocopter said the decision taken by Bond did not apply to the rest of the Eurocopter fleet in the UK - a total of 57 aircraft.
The areas affected included Dorset, Somerset, Thames Valley, the Isle of Wight, the Midlands, Scotland and Wales:
The Scottish Ambulance Service, which grounded both its EC 135s, said its Inverness-based aircraft had been passed as safe to fly while its Glasgow helicopter had not yet been cleared
The North West Air Ambulance Charity said one of its helicopters had been cleared to resume flying at 08:00 GMT on Friday while the other two were still suspended
The three EC 135s operated by the Midlands Air Ambulance were also grounded
The East Anglian Air Ambulance service's two helicopters, based in Cambridge and Norwich, have been now passed as safe to fly
Wales Ambulance Service said two of its three helicopters had been cleared to fly with checks continuing on a third aircraft
Also in Wales, a police air support helicopter operated from St Athan in the Vale of Glamorgan has resumed flying
The Hampshire and Isle of Wight Air Ambulance has been cleared to fly
West Midlands Ambulance Service said one of three helicopters operated by Midlands Air Ambulance was now back in action
A spokesman for the Civil Aviation Authority (CAA) said Bond's decision had been a "voluntary action by the operator".
"There is no official regulatory grounding of the type of helicopter so they are still free to fly if the operators wish to.
"If there were an official grounding, that would come from the European Aviation Safety Agency."
Inquiry call
Ch Supt Ian Whitehouse, chief operating officer of the National Police Air Service, said it had no plans to ground aircraft.
He added: "In light of the technical issue identified by Bond Air Services, as a precautionary measure, we are increasing fuel levels on all NPAS EC 135 aircraft and increasing the minimum level of fuel which pilots are allowed to operate on."
Following the decision to ground the aircraft, the British Airline Pilots' Association has called for a review into how helicopter operations are regulated.
"Pilots are looking to the regulator, the Civil Aviation Authority and European Aviation Safety Agency to take charge and provide the industry with the information that has informed the decision to ground the Bond EC 135 fleet," a statement read.
"Flight safety is best served when there is transparency and openness and these developments leave everyone asking 'Why?'.
"This grounding confirms our belief that a fundamental review about how helicopter operations are regulated is needed; a point we will be making forcefully to the House of Commons Transport Select Committee in their upcoming helicopter safety inquiry."
The RMT union, meanwhile, has called for a full public inquiry into helicopter safety, both inshore and offshore.
"All of those workers using the helicopters, whether they be offshore, police, ambulance, coastguard or any other industry, have a right to know that their place of work is safe and that means establishing the full facts as an absolute matter of urgency," general secretary Bob Crow said.
A total of 30 police helicopters and 36 air ambulances operate across the UK.