Emergency helicopters grounded by Bond Air Services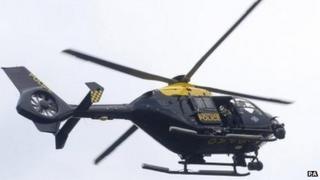 Emergency services helicopters have been grounded amid safety fears about the EC 135 - the same model which crashed in Glasgow.
Bond Air Services suspended flights on all 22 of its EC 135s after a fault was found on the North West Air Ambulance.
Ambulance services across the UK are affected, but the National Police Air Service has not grounded any aircraft.
Eurocopter, which manufactures the EC 135, said it was not telling other operators to ground the model.
The Police Scotland helicopter came down on the busy Clutha bar in Glasgow on 29 November. Its three crew were killed, along with seven people inside the pub.
An initial report from the Air Accidents Investigation Branch (AAIB) said it had found "no evidence of major mechanical disruption of either engine".
However, on Thursday Bond Air Services said: "During normal operations yesterday, one of our EC 135 fleet has experienced an indication defect that requires further technical investigation.
"Therefore as a precautionary measure we have temporarily suspended service operations whilst we undertake detailed diagnosis.
"We commenced investigations overnight, are continuing this morning and are in close liaison with Eurocopter regarding this investigation."
Eurocopter said the decision taken by Bond did not apply to the rest of the Eurocopter fleet in the UK - a total of 57 aircraft.
The manufacturer said it would be working with Bond Aviation and would issue a further statement later.
'Technical problem'
A total of 30 police helicopters and 36 air ambulances operate across the UK.
The Association of Air Ambulances (AAA), which represents the majority of the air ambulance network, said 16 of its helicopters in the UK were affected by the grounding and will be subject to safety checks.
Other air ambulances still in operation will be used to cover the areas currently affected by the grounding, AAA said.
Director Clive Dickin said: "The safety of the aircrew and general public is of primary importance and we are supporting Bond Air Services and Eurocopter who are working closely together to investigate and resolve the technical problem.
"Aircraft of all types occasionally are grounded for bad weather or routine maintenance. In these circumstances, other air ambulances and ambulance service providers work closely to ensure no patients are affected."
A spokesman for the Civil Aviation Authority (CAA) said: "It is voluntary action by the operator.
"There is no official regulatory grounding of the type of helicopter so they are still free to fly if the operators wish to.
"If there were an official grounding, that would come from the European Aviation Safety Agency."
Ch Supt Ian Whitehouse, chief operating officer of the National Police Air Service, which supports forces in England and Wales, said it was in constant communication with the CAA.
"There is currently no notice in place from the CAA or the original equipment manufacturers to ground any aircraft and so we have not done so.
"If such a notice is put in place then we would immediately and carefully consider it.
"In light of the technical issue identified by Bond Air Services, as a precautionary measure, we are increasing fuel levels on all NPAS EC135 aircraft and increasing the minimum level of fuel which pilots are allowed to operate on."
The suspension of flights has had an impact across the UK:
The Scottish Ambulance Service confirmed both of its helicopters had been grounded as a precautionary measure. A spokesman said it was operating "normal contingency measures". Any patient who requires transfer by air will be taken by coastguard and military helicopters, Scotland's Charity Air Ambulance helicopter or the SAS fixed wing aircraft.
The North West Air Ambulance Charity said its three helicopters had been suspended. Its paramedics and clinical staff are deployed in rapid response road vehicles. Chief executive Lynda Brislin said: "NWAS will continue to work with other aircraft fleets, including Yorkshire and Great North Air Ambulances, together with Air Sea Rescue and Coastguard, and will deploy the most appropriate service available."
The three EC135s operated by the Midlands Air Ambulance have also been grounded, but a spokesman said the situation was "likely to be resolved" on Thursday. He added: "As a service we still have access to two air ambulances - those operated by Warwickshire and Northampton Air Ambulance and Derbyshire, Leicestershire and Rutland Air Ambulance - so we have no concerns about patients being put at risk by this situation."
The East Anglian Air Ambulance service's two helicopters, based in Cambridge and Norwich, had been suspended. However, it said its aircraft had been cleared to fly again.
Sean Maffett, an aviation expert and former RAF navigator, said he believed the grounding was likely to be a precautionary measure.
He told BBC News: "I hope that it won't take very long and I hope it will turn out that this has got nothing to do with the Glasgow accident.
"But then again the Glasgow accident is such a mystery, and there are so many different theories about what might have happened, that it is possible that this does have something to do with it and they are just being cautious.
"I think everybody is rather twitchy at the moment, understandably.
"Eurocopter, the manufacturer is very keen to point out that it has not been grounded, it's just that the company have chosen to suspend services which is probably a sensible thing to do.
"But no other operator with these aircraft - and there are a thousand of them around the world - has stopped using it at the moment."
Meanwhile, the RMT union has called for a full public inquiry into helicopter safety, both inshore and offshore.
RMT general secretary Bob Crow said: "Following the recent incidents in the North Sea, and the tragedy at the Clutha Bar, there is now a widespread and deep-seated concern over the whole issue of helicopter safety and that can only be addressed by a full and open public inquiry.
"RMT, as the union representing offshore staff, wants to know if there is any connection between the spate of incidents, and that can only be established through a public inquiry.
"All of those workers using the helicopters, whether they be offshore, police, ambulance, coastguard or any other industry, have a right to know that their place of work is safe and that means establishing the full facts as an absolute matter of urgency. That means a full public inquiry into helicopter safety."