Killer drink driver Mark Kane jailed for eight years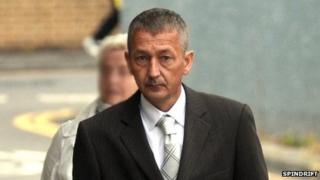 A drink driver who killed a friend in a fatal crash then tried to blame the victim has been jailed for eight years.
Mark Kane, 39, claimed Andrew Duffy was driving his Volkswagen Golf when it overturned on a country road in Shotts, North Lanarkshire, on 5 April 2011.
Kane was jailed at the High Court in Glasgow after being convicted of causing the death of his 29-year-old friend by dangerous driving.
He was also banned from driving for the next 10 years.
Jailing Kane, temporary judge Alastair Stewart QC told him: "On any view this was a serious offence. The standard of the driving was quite appalling.
"It was aggravated by the fact you had consumed a considerable amount of alcohol."
'Erratic' driving
The trial heard how Kane was tailgating motorist Kenneth Goodbrand who was travelling with his wife and two young children.
Mr Goodbrand described Kane's driving as "erratic" as he tried to get past him.
The court was told that Kane decided to overtake on a blind bend before his car started veering out of control.
The Golf then left the road and spun onto its roof.
Mr Duffy was thrown from the vehicle suffering fatal injuries.
Mr Goodbrand stopped to help and found Kane sliding out the driver's side window to free himself from the wreckage.
The offshore worker then spotted Mr Duffy lying near a telegraph pole but found that he had died.
Mr Goodbrand said he remembered Kane calling out for Mr Duffy.
The witness told the court: "I told him that his mate was dead - but there was no reaction.
"I asked him was he driving, but he said nothing. His expression was blank."
Mr Goodbrand then added: "He then said something like 'we will need to get our stories straight' or 'I will need to get my stories straight'.
"You could smell the alcohol off him. He was staggering about - incoherent."
Previous ban
Despite the evidence against him, Kane, of Clelland, North Lanarkshire, went to trial claiming he was not behind the wheel.
His lawyers lodged a special defence alleging Mr Duffy was driving that day.
It meant the victim's family were forced to listen to harrowing details of the crash.
Some distressed relatives walked out of the trial as a photo of Mr Duffy's body, moments after the incident, was beamed on courtroom screens.
The jury returned a unanimous guilty verdict against Kane following a four-day trial.
It emerged he had previously been banned from driving for three years in 2001 after failing to provide a breath specimen to police.
After the trial, the victim's mother Carol Duffy said: "He took the life of my son. If he had confessed straight away I could have forgiven him, but now I can't.
"If he had said sorry early on, we could have helped him. Now I don't give him a second thought."