Glasgow helicopter crash: Funerals for Tony Collins and John McGarrigle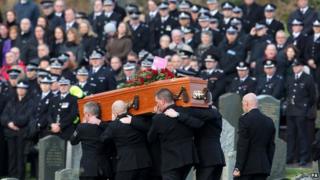 The funerals of two more people who died in the Glasgow helicopter crash have taken place.
PC Tony Collins was laid to rest at a ceremony in the village of Lamlash on the Isle of Arran.
The officer was part of the crew of the Police Scotland helicopter that crashed into The Clutha pub, killing nine people.
The funeral of John McGarrigle, who was in the pub when it was struck by the helicopter, was held in Glasgow.
PC Collins, 43, was praised by Sir Stephen House, the chief constable of Police Scotland, for the work he had done "keeping Scotland safe".
He had been commended in the past for acts of bravery.
The father-of-three was buried at Lamlash Cemetery, overlooking the Holy Isle and the Firth of Clyde.
Mr Collins' wife Lucy and other relatives were joined by Police Scotland Chief Constable Sir Stephen House at the ceremony.
Volumes of poetry
Police officers formed a guard of honour for the coffin.
Clutha customer John McGarrigle, 57, was remembered during a mass at St Bartholomew's Church in the south of Glasgow, followed by a service at Linn Crematorium.
Mr McGarrigle was said by his son to have been a regular at The Clutha for many years, and always sat in the same seat in the pub.
He wrote several volumes of poetry about Glasgow and its working classes.
The funerals of two other men who were in the pub at the time, Mark O'Prey, 44, and Gary Arthur, 48, were held on Monday, while the funeral of the helicopter's pilot, Captain David Traill, who was 51, was held at Glasgow University on Saturday.
The other crew member who died in the incident was PC Kirsty Nelis, 36.
The three other customers inside The Clutha who were killed were Robert Jenkins, 61, Colin Gibson, 33, and Samuel McGhee, 56.
An initial Air Accident Investigation Branch report into the disaster said it had found no evidence of a "major" engine or gearbox failure in the police helicopter.