Pond attack student Paul Glenn detained at Carstairs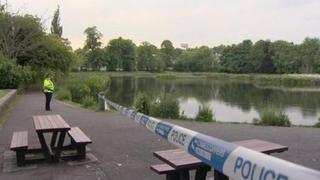 A law student with a history of mental health problems has been ordered to be detained at the State Hospital after trying to drown a man in Glasgow.
Paul Glenn, 21, dragged James Campbell into Bingham's Pond in the city's west-end and held his head under the water.
He then threatened to kill a passer-by and brandished a rock at another man.
Glenn was acquitted of attempted murder and threatening behaviour after he was found to be suffering from a mental disorder at the time.
The High Court in Glasgow heard that Glenn - a student at Glasgow University - moved to Scotland from America two years ago.
Psychotic symptoms
He had been admitted to hospital three times since August 2011 with psychotic-type symptoms.
Just over two weeks before the attack, he was sent to Gartnavel Royal following an "incident" with a relative and remained there for treatment.
The victim at the pond, 50-year-old Mr Campbell, was also a patient at the Henderson Ward at Gartnavel, but had no contact with Glenn.
The court heard how both men were allowed to "come and go" from the hospital with "the consent of nursing staff".
On 10 June Mr Campbell was approached by Glenn, who was wearing just a pair of shorts, at Bingham's Pond close to Gartnavel.
Without warning, Glenn repeatedly punched Mr Campbell knocking him to the ground.
He then dragged the man into the pond and plunged his head under the water.
Passer-by Alan Payne yelled for help before he and another man - Thomas Smith - tried to reason with Glenn.
Glenn shouted at Mr Smith: "If you come in the water, you will be next."
Mr Payne and Mr Smith went into the pond to help Mr Campbell, who was still being held below the water.
Mr Payne punched Glenn, who let go of Mr Campbell.
'Voice in head'
Glenn then grabbed Mr Payne and pulled him towards a deeper area of the pond.
Mr Payne managed to break free just as it appeared Glenn was going to lash out with a rock.
Police then arrived and hauled Glenn out of the water.
The law student told officers: "The voice in my head told me he was the devil and I had no choice, but to kill him.
"As soon as I done it, the voice told me he was proud of me and that's when the voice went to heaven and I haven't heard since."
The victim Mr Campbell suffered a nasal fracture as well as bruising and swelling to his face, but was later able to return to Gartnavel.
The court was told that two psychiatrists concluded Glenn had been unable at the time to "appreciate the nature and wrongfulness of his conduct".
He was also deemed to be "acutely psychotic".
Judge Lord Turnbull acquitted Glenn of the charges but made made him the subject of a compulsion order meaning he will be detained at the State Hospital in Carstairs.
A spokesperson for NHS Greater Glasgow and Clyde said Glenn would only have been let out that day following thorough checks.