Isle of Coll secures 'dark isle' status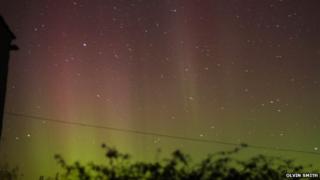 A Scottish island has secured "dark skies" status, meaning it is one of the best stargazing locations in the UK.
Coll, in the Inner Hebrides, is the second area in Scotland to be recognised - behind Galloway Forest Park - and the sixth in the UK.
The island has no street lighting and is relatively free of light pollution found in built up urban areas.
Islanders, who number about 200, now hope the recognition will lead to a surge in winter tourism.
Galloway Forest Park has seen a rise in off-season tourism since it was recognised in November 2009.
Coll was awarded the status of Dark Sky Community by the International Dark-Sky Association at the same time as Northumberland Park in England.
The other UK sites with the status are Sark Island, Exmoor Reserve and the Brecon Beacons.
'Share our darkness'
Coll Dark Skies Group member and local stargazer Tony Oliver said: "The first winter on Coll I was in awe of the night sky, it's on a par with many of the high arctic regions I'd visited.
"Soon I discovered Coll had some real stargazers which eventually led, over many pints, to where we are today.
"Now we have the opportunity to share our darkness with others and I hope anyone visiting Coll off-season will be equally inspired."
The award is the result of years of work from the Coll Dark Skies Group, which has taken measurements of the darkness, carried out an audit of all outside lights on the island and adjusted or refitted lights that had spoiled the view for stargazers.
The group used a sky quality meter to measure the darkness. On the scale of the device, an urban sky would read around 17, while a site completely free from light pollution would read 22.
On several sites on Coll readings of 21.9 were regularly recorded, making Coll's skies some of the darkest in Europe.
Tourism hope
International Dark-Sky Association member Steve Owens, who helped Coll in its bid, said: "This is a fantastic achievement for Coll, placing them in a very select family of places around the world that have worked to protect their night sky.
"The fact that the UK now has one quarter of all of the International Dark Sky Places across the globe shows that there is a real appetite here for night sky protection, and for establishing places where anyone can enjoy the wonder of the night sky."
Coll Dark Skies Group is now hoping the status will increase winter tourism by attracting stargazers to the island.
Argyll and Bute Councillor Fred Hall said: "The Isle of Coll is a unique island in many ways, not least of which is its beautiful countryside and sea views but also the lack of light pollution.
"I can think of no better island in the inner Hebrides to gain the Dark Skies accolade."