Glasgow helicopter crash: Clutha hate comments investigated by police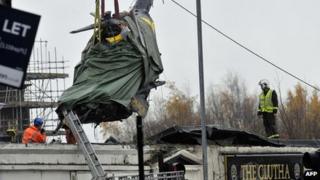 Online hate comments about the Glasgow helicopter crash which left nine people dead are being investigated by police.
Scotland's senior prosecutor said guidance would be issued this week on dealing with allegations linked to the Clutha bar tragedy.
Lord Advocate Frank Mulholland said prosecutors "must take a hard line" against this kind of hate crime.
The first of the funerals of the victims of the crash, which happened nine days ago, took place on Saturday.
The Lord Advocate's office said Police Scotland were investigating allegations of crimes arising from hateful comments posted online.
It is understood about a dozen cases are being examined, some involving offensive, racist or sectarian comments in relation to the Glasgow crash.
Procurators Fiscal will be told that where offences have been motivated by a reaction to the Clutha bar crash there will be a presumption in favour of criminal proceedings.
Mr Mulholland said: "It is important that COPFS [Crown Office and Procurator Fiscal Service] demonstrates a robust prosecution policy towards such offences committed as a reaction to the incident in recognition of the fact that people died and the impact such crimes will have on their families and friends.
"This is also in consideration of the other people who were in the Clutha bar and those who attended the scene in the aftermath."
The Lord Advocate added: "I have made it clear that prosecutors must take a hard line against this kind of hate crime."
In the days after the crash one teenager was detained over alleged comments on social networking site Twitter.
Last week the attorney general's office said it would start to publish guidance on Twitter to help prevent social media users from committing contempt of court when commenting on legal cases in England and Wales.