Glasgow helicopter crash: new appeal made for witnesses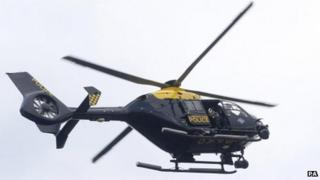 Police officers have been on duty in the area of the police helicopter crash in Glasgow as a fresh appeal was made for witnesses.
One week after the aircraft struck the Clutha bar, detectives were hoping to trace people who saw what happened.
The officer in charge of the investigation said some may not yet have come forward.
The latest police operation came as the local authority prepared to re-open roads around the crash site.
Glasgow City Council said it expected the restrictions would be lifted by 07:00 on Saturday.
The police helicopter's crew of three, and six people inside the bar, died in the crash.
Officers said, in the course of Friday evening, the helicopter had overflown the Gorbals area of Glasgow, Dalkeith in Midlothian, and Bothwell in Lanarkshire.
They confirmed the last sightings of the aircraft were close to Stockwell Street and King Street in Glasgow city centre.
Det Supt Robbie Allan said: "Firstly, I would like to thank the public for their continued support and for providing information about sightings of the Police helicopter on the night of Friday 29 November 2013.
"The public has been sending photographs and footage of the helicopter and the area around the Clutha Vaults to our dedicated email address.
"I would ask that they continue to send any media they have."
Mr Allan, the senior investigating officer in the case, said putting officers on the streets close to the scene one week after the incident was standard procedure in all major investigations.
He added: "I would appeal to anyone who has any information who has not yet come forward to speak to officers to do so. Please do not assume that officers know what you know, or that someone else will already have passed the information to officers."
The city council said the lifting of the road closures followed the removal of the police cordon around the Clutha bar.
A statement confirmed that CCTV coverage of the site would be in place 24 hours a day and Community Safety Glasgow would increase its regular patrols of the area.