Stockholm bomb funder Nasserdine Menni loses appeal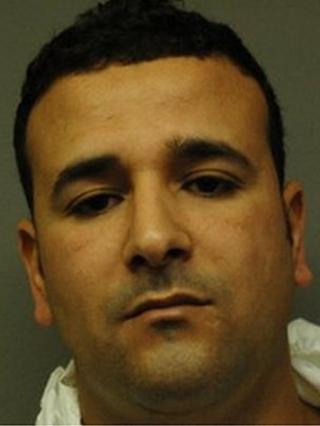 A Glasgow-based asylum seeker who was jailed for seven years for helping to fund a terror attack in Sweden has lost a legal bid to overturn his conviction.
Algerian Nasserdine Menni, 39, was found guilty of supplying money to Taimour Abdulwahab to help fund the suicide bombing in Stockholm in 2010.
Iraqi-born Swedish citizen Abdulwahab blew himself up in Stockholm on 11 December 2010. Two people were hurt.
Menni is also pursuing other grounds of appeal and challenging his sentence.
Following an 11-week trial at the High Court in Glasgow last year, illegal immigrant Menni was acquitted of a charge of conspiring with Abdulwahab to further terrorism on a not proven verdict.
He was found guilty of transferring £6,725 to bank accounts knowing or with reasonable cause to suspect that the money would or may be used for terrorist purposes.
The trial judge, Lord Matthews, told jurors that it would be "just open" to them to convict of the offence even if they acquitted on the main charge.
'Lack of evidence'
After Menni was found guilty of the funding offence Lord Matthews told him: "The provision of funds provides assistance for those who would carry out terrorist attacks and even if the providers of the funds do not know precisely what they will be used for the sentence of the court must reflect their potential use."
Lawyers acting for Menni challenged his conviction attacking the sufficiency of evidence on the funding offence and the trial judge's directions to jurors.
At the Court of Criminal in Edinburgh, Lord Bracadale, sitting with the Lord Justice General Lord Gill and Lord Brodie, said they were satisfied that it was open to the jury to "draw the inference that the appellant knew or had reasonable cause to suspect that the payments that were admittedly made were or might be used for the purposes of terrorism".
Lord Bracadale said: "In order to prove a contravention of section 17 of the 2000 Terrorism Act it was not necessary to prove knowledge of any specific act of terrorism,.
"In our opinion the trial judge was correct to direct the jury that it was open to them to find the appellant guilty of subhead c (funding) while acquitting him of the conspiracy charge."
The judge said it was for the jury to assess all of the evidence in such a circumstantial case and the inferences which could be drawn from it.
Menni's counsel William Taylor QC submitted that the trial judge had not directed the jury to any evidence which would justify a conviction on the funding offence alone and the reason for that was that there was none.
Abdulwahab, who was killed by an improvised explosive device in the Swedish capital in December 2010, had bought material to make pressure cooker bombs.
Other bombs
He died after one of the devices he was carrying detonated in a pedestrian precinct.
Two further bombs were recovered, one in a rucksack near his body and another in a car parked a few blocks away.
He had sent an email attempting to justify his actions because of cartoons in the Swedish media, one of which portrayed the prophet Mohammed as a dog, and because of the country's deployment of troops in Afghanistan.
He also called on hidden Mujahideen in Europe to strike.
Menni, an Algerian, who had been living and working in Luton under a false identity, was a friend of the terrorist.
He was subsequently sent to live in Glasgow after making a claim for asylum under another false name.
The Crown claimed that he left Luton and his employment to conceal what he was up to.
In 2009 and 2010 he made a series of cash deposits at a bank in Blythswood Square to an account held in the name of Ab Adulwahab.
He also paid money into another account which was then given to the terrorist's widow.
Mr Taylor pointed out that although there had been frequent contact between Menni and the terrorist by phone and email, no email containing incriminating material had been recovered.
He said it was also significant that Menni was not included in the list of people to whom Abdulwahab sent his last message.
Menni will be deported after he serves his sentence.