Nelson Mandela death: Glasgow remembers honoured son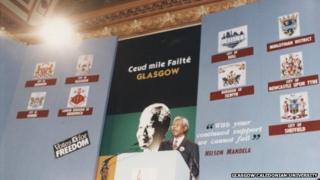 A number of tributes to Nelson Mandela are taking place around Glasgow after the former South African president died on Thursday at the age of 95.
Mr Mandela was awarded the Freedom of the City in 1981, while a prisoner under his homeland's Apartheid regime.
A book of condolence to mark his death has been opened at the City Chambers, where the flag is at half mast.
A gathering to celebrate his life was also held at Nelson Mandela Place at 17:00 on Friday.
The former St George's Place was renamed in his honour in 1986.
The move was highly political as during that time the fifth floor of the Stock Exchange building housed the South African consulate-general.
'Moral icon'
Friday's gathering was organised by ACTSA Scotland, the successor organisation of the Scottish Anti-Apartheid Movement.
Glasgow City Council said the flag above the City Chambers would remain at half mast until after Mr Mandela's funeral.
Glasgow's Lord Provost Sadie Docherty said: "The world has lost a true political and moral icon.
"His beliefs cost him years of his own freedom but his vision for peace and democracy prevailed. His legacy will live on and inspire generations to come."
The book of condolence in the City Chambers is situated beneath a plaque commemorating the 30th anniversary of Glasgow awarding Mandela the Freedom of the City.
The plaque is engraved with words Mandela spoke from the dock during his trial on 20 April 1964: "I have cherished the ideal of a democratic and free society in which all persons live together in harmony and with equal opportunities. It is an ideal which I hope to live for and to achieve. But if needs be, it is an ideal for which I am prepared to die."
When Glasgow awarded Mandela the Freedom of the City in 1981 it was the first city in the world to bestow such an honour.
After his release from prison, Mandela visited Glasgow in 1993 to formally receive the honour, along with the freedom of eight other British towns and cities.
He later spoke to a crowd of about 10,000 people in George Square, thanking them for their support during the Apartheid years.